This is a sponsored conversation written by me on behalf of Cricut. The opinions and text are all mine.
If you find yourself embarking on a Disney Family Cruise, you will want to check out some Disney Fish Extender groups.  If you own a Cricut machine, you are automatically thinking of creative Cricut Fish Extender ideas to make for these families that you have never met. This post contains affiliate links and is sponsored. All opinions are my own.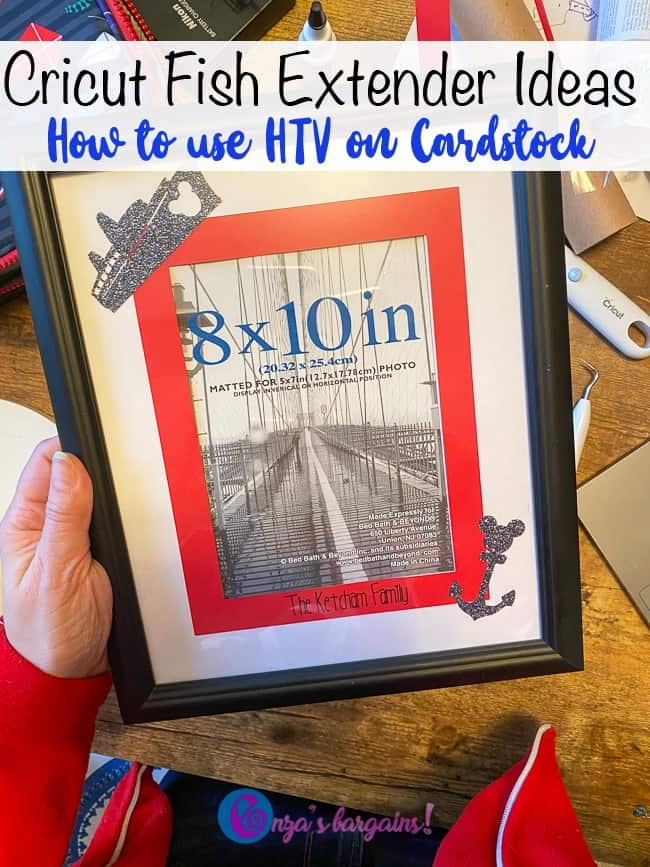 If you you have stumbled across this post, there is a good chance that you have heard of Disney Fish Extenders.  Years ago a group of families who were traveling on a Disney Cruise decided to do a gift exchange.  Now the tradition has taken place for years.  In order to participate, social media makes it easy to search for someone who has organized the exchange or you can choose to organize your own.
Cricut Fish Extender Ideas
If you are looking to create a cute family gift to give to cabins participating in your fish extender, you might want to create a Cruise Picture Frame with a double mat board.  It is pretty simple to create and there are lots of different ways you can do it. I considered cutting out my images on the top mat board to let the colored mat board show through it.  In the example and instructions below, I am going to use a technique where you apply Heat Transfer Vinyl to cardstock.
What you need:
Cricut Explore Air 2
Easy Press 2
Two colors of card stock (I used white and red)
Heat Transfer Vinyl (Tuxedo Sampler is perfect)
Cricut images using Access (or your own images)
Mat Board – Green
Cricut Rotary Cutter
Weeding Tool
Black pen
Black 8 x 10 Frames from Dollar Tree or Bulk from Amazon
 First, you will want to create your design. I used Cricut Access images of a boat and an anchor.  Creating a Mickey with Cricut Shapes I used the slice method to cut the Mickey out of the ship. Then I used the Weld tool to add the Mickey on the top of the anchor. You can use my pre-made design if you would like. You just need to change the family name.
Choose the rectangle and using the unlock button create your sizes.  You can use other rectangles for your slots for your picture or your layered mat.  You can use my template I created and published on my Cricut Project Profile page if you like my exact sizes and design.

Using a Writing Font create your text and use the Attach Tool to be sure it is attached to the Mat you want your text to appear.
When you go to cut, be sure every layer is a different color.
After you cut your cardstock layers turn your mat upside down and peel the mat keeping the cardstock flat.

When cutting your HTV, you will want to mirror it and if using glitter HTV I would suggest using the Custom setting.

Time to press.  You will want to use your heat at 290 degrees for 30 seconds after a 5 second preheat with a warm peel.  Be sure to apply pressure when heating.
Adding your heated design to the frame.  Just be sure to wipe down any frame imperfections and if gifting the frame it will be best to apply the brackets so that the frame is ready to be hung up.
After doing a little research other ideas that people came up with was to deliver these frames with a pen for them to be signed by characters.  Another idea, which I plan to do, is to add the Cruise Ship Name and the dates at sea.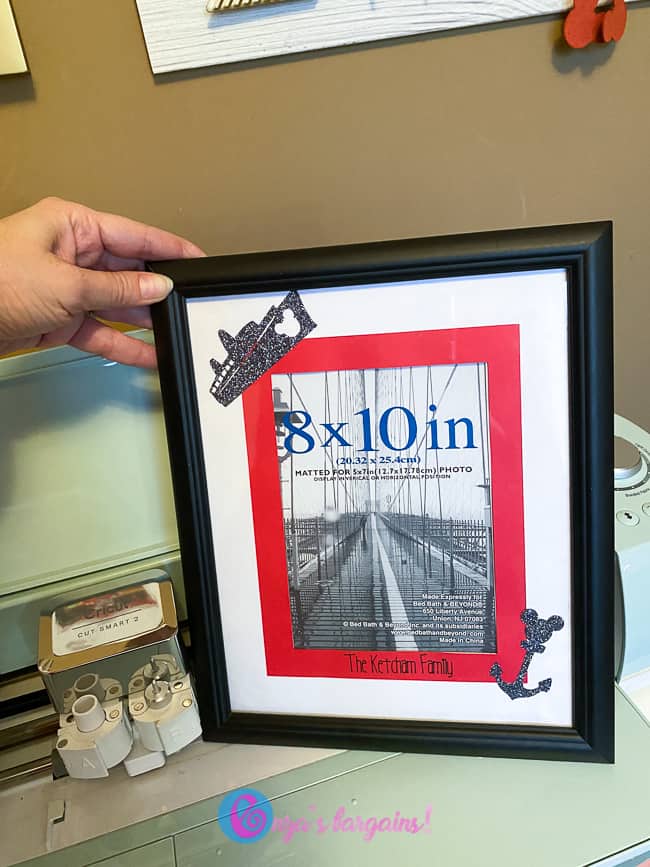 If you are looking for another Fish Extender gift idea or something cute to wear to your next Disney Adventure, check out my Mickey Cricut Leather Earrings.
We hope you enjoy watching our TikTok Video below!