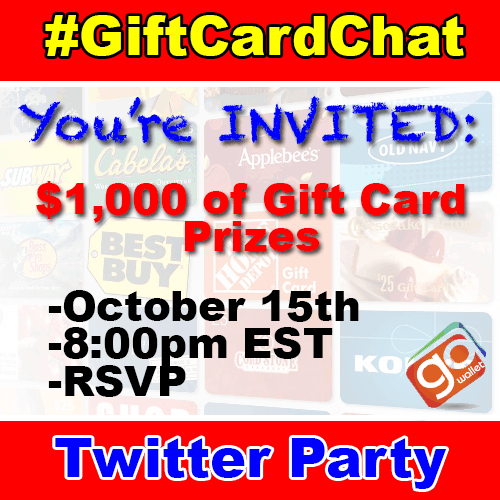 We LIKE to PARTY! Mark your calendars NOW! We are going to have a Twitter Party and reward readers with OVER $1,000 of Gift Cards for participating! Never attended a twitter party? What A FUN one to start with! We are going to be discussing Gift Cards with our guests from GiftCard Mall and Go Wallet which is a Gift Card app that organizes your gift cards, updates their balances, and allows you to use your phone to make purchases at stores! Gift Card Mall AND Go Wallet will often have HOT deals and sales on their gift cards! You can shop their deals ONLINE or buy their cards straight up at various kiosks across the country. When shopping online you might be able to find a $50 gift card at a discount! This makes for some great gift giving OR buy the gift cards and pair them up with your own savings!
***We will be giving a GRAND prize of $250 Gift Card pack that will include various gift cards from retailers that you can use to do all your Holiday Shopping!!!***
1.  Follow @EnzasBargains, @GCMall, and @GoWallet!  
Follow @EnzasBargains

and
Follow @GoWallet

and
Follow @GCMall

2.  OPTIONAL: Add this PARTY to your Google Calendar!  It will be at 5:00pm PST!

3.  RSVP by adding your information below.  The URL/address should be your twitter address.  Your name will be your twitter name (example @enzasbargains).  Your e-mail will be what you want me to hunt you down with if/when you win! 🙂
4.  For those of you who are current GoWallet users we'll be asking some questions about using it online or on your smart phone too, so tune in for tips and tricks from users and GoWallet staff. (you don't need a smart phone to participate but it makes the app awesome.) This will totally help you with your shopping I was able to finally dig out all my cards that had a few dollars on them and use them because they were right there on my phone! 🙂 Give it a try!  Get your app at  Go Wallet. You don't have to be an expert to WIN but having this app will help you contribute to the party!!  
Bring your questions about using Giftcards and our friends at GoWallet and GiftCard Mall will supply you with tips to make your holiday shopping this year a BREEZE!
5.  Do you plan on attending this party!?  Tweet, Share, LIKE, spread the LOVE!!!  It is going to be a blast with awesome TOPICS (oh and AMAZING PRIZES)!!
TWEET–> Tweet

Are you NEW to twitter parties?  You will want to make sure you follow #GiftCardChat and your host @EnzasBargains during it.  By participating and RSVP'ing to the event random winners will be selected to WIN gift cards to TONS of retailers at random!  BUT you have to party it up with us to WIN! 🙂
Easiest Way to follow along:
Set up a TweetDeck account and follow @enzasbargains #GiftCardChat & @GoWallet! Easy to follow by using http://twubs.com/GiftCardChat OR https://web.tweetdeck.com/!