Sponsored by: This post is sponsored by ElementAssociates, all opinions are mine.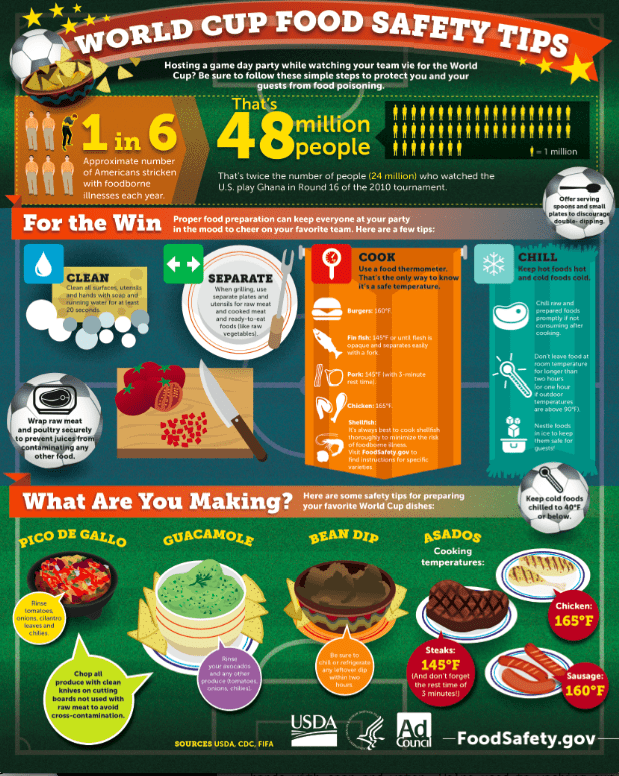 As a mother of two little girls, food safety is VERY important to us! Of course, I am interested in celebrating the #WorldCupChat #WorldCupFiesta and to also promote Food Safe Families Campaign! The CDC estimates that about 1 in 6 Americans (about 48 million people) could suffer from foodborne illness this year. I know, I have been to a trip to the ER with my mom, and I have been in bed for days after eating something gross at a buffet!
So what do these numbers mean?
—Food-borne Illnesses a year–> twice the amount of people (24 million) that watched the U.S. play Ghana in round 16 of the 2010 World Cup
—The result is approximately 128,000 hospitalizations and sadly, an estimated 3,000 deaths!
FoodSafety.gov highlights the FOUR SIMPLE STEPS TO FOOD SAFETY FOR GAME DAY:
o Clean: Don't forget to CLEAN your hands (even if you are partying for the games)!  When preparing party food, clean kitchen surfaces, utensils, and hands with soap and water. We're used to washing our hands before sitting down for a meal, but may forget in a party atmosphere.
o Separate: Place raw meat, poultry, and seafood in containers or sealed plastic bags to prevent their juices from dripping onto other foods. Cross-contamination occurs when raw meats, like your chicken wings or steaks, touch ready-to-eat foods like veggies. In the refrigerator. When taking food off the grill or out of the oven, don't put cooked food on the same platter that held raw meat or poultry.
o Cook: Cook foods to the right temperature by using a food thermometer. That's the only way to know it's a safe temperature. For example sausages should be cooked at 160° F and poultry to 165° F.
o Chill: Chill raw and prepared foods promptly if not consuming after cooking. Follow the two hour rule: you shouldn't leave food at room temperature for longer than two hours and try nestling foods in ice to keep them safe for guests!
We need your help in spreading the word about these safe eating tips. It's bad enough when a favored team loses, but if guests end up sick as well, it adds insult to injury.
Join our Twitter Chat on June 17th at 1pm EST—just hours before the anticipated Brazil vs. Mexico game! We'll be offering game-day party tips—just follow the hashtag #WorldCupChat for the English chat and #WorldCupFiesta for the Spanish version.