Disclosure: Sponsored Content and Twitter Party.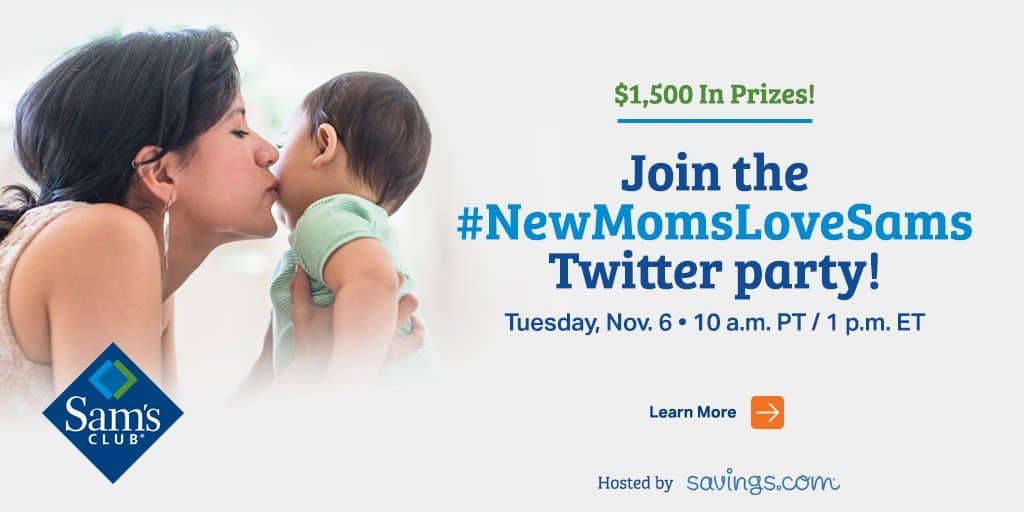 Being a mom is definitely want of the toughest jobs that you can have.  Many of us not only have that job but some of us also work full-time. I remember the first time I became a first time mom how stressful it was.  I remember the good, the bad, and the ugly.
I have teamed up with Savings.com and Sam's Club to celebrate new moms on twitter!  Enter for a chance to win and tweet with us as $1,500 in prizes will be given away in only one hour!  You will want to RSVP and join us for the party and ALSO enter for more chances to win gift cards with the special online sweeps below!
During the party we will also talk about all the benefits you get when signing up for the first time if you are a new mom.  Here is a sneak peak if you are as excited as we are today!
Join me, @EnzasBargains and @Savings for a Twitter Party all about celebrating new moms!
If you feel busy, if you feel tired, if you feel like you are in love…we know all those emotions.  Lets share and talk about how Sam's Club can help save money and time.
Join us Tuesday, November 6th at 12pm CST/1pm EST and use the hashtag #NewMomsLoveSams! Be sure to RSVP below for a chance to win!
Date: Tuesday, November 6, 2018
Time: 2pm CST/1pm EST
Hashtag: #NewMomsLoveSams
Sponsored by: @Savings
Join ME: @EnzasBargains
Besides the twitter party! We also included another giveaway where you can quickly enter for a chance to win MORE Sam's Club Gift or Membership cards! Be sure to RSVP AND ENTER.
Step #1:
Twitter Party:
Prizes: (15) $100 Sam's Plus Gift of Membership gift cards!
 Step #2:
ANOTHER Chance to Win:
Prizes: (25) $100 Sam's Plus Gift of Membership Gift Cards
Did you RSVP for the PARTY and ENTER TO WIN MORE Gift Cards?