A Look at Jet's Waiver's Remorse Fee – A guest post by Tom Caporaso
The early estimates from the 2015 holiday shopping season clearly show that, as a group, U.S. shoppers are making more and more and more purchases online. Unfortunately for shoppers (and retailers), one of the drawbacks of online shopping is that you don't always know what you'll get until it arrives — until you can try it on, turn it over, test it out, and determine whether it meets your expectations.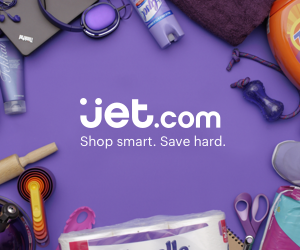 That's why you're much more likely to return online orders than in-store purchases — and why return policies play such a
big role
in shopping decisions. Customers reward retailers that offer free return shipping and/or easy in-store exchanges by
shopping
more — and
repeat
edly — with them, even though they seem to be
shying away
from these customer-friendly approaches.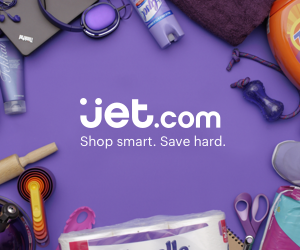 Jet.com is trying a slightly different
tack
: Jet shoppers can return items for free within 30 days of their purchase, but Jet offers them extra savings if they agree upfront not to return any items in a particular order. Shoppers who agree not to return anything but then change their minds are charged a Jet's Waiver's Remorse Fee "to cover the cost of the return."
Sign up for JET.COM and get 15% off on your first order by using WELCOM15 (when you purchase 3 things!
Is Jet's discount for waiving free returns a worthwhile deal, or should you retain the ability to return items and thereby avoid the Jet's Waiver's Remorse Fee? The answer depends on a few different factors:
Your purchase behavior. If you tend to combine a whole lot of items into a single purchase, you might not want to waive free returns. Say you're buying cereal, toilet paper, and dog food in bulk, but you decide to add a pair of sneakers to your cart, too. While you might trust that the household supplies will arrive in satisfactory condition, you can't be completely sure about the sneakers until you put them on, so it'd be wise to pass on the extra savings you'd get by promising not to return any item.
The items you're buying. As the scenario above suggests, your confidence level can vary by product and/or brand. Waiving free returns on Brand X sheets could make sense if you've never received a bad set of sheets from that manufacturer. Waiving a free return on a new putter or some gardening tools might not make sense if you've never tried the product or bought anything from the maker before.
The retailer fulfilling your order. The Jet shopping algorithm is designed to identify the retailer that can deliver the best deal on your entire shopping cart. If you've never shopped at that store before (or if you've had an unsatisfactory experience with that retailer in the past), you might not want to surrender the option of returning items for free.
Let's look at a more concrete example. According to a recent Kiplinger's piece, waiving the free return on a $20. 68 purchase of two 46-ounce bottles of Tide detergent resulted in savings of 42 cents, which is about 2% of the retail price. A first-class "Forever" stamp currently goes for 49 cents, and the return shipping fee for 5 pounds and 12 ounces of detergent will certainly cost more than that. If you trust that the Tide detergent will arrive in the size, scent, and condition you want, maybe the 42-cent discount is worth sacrificing the opportunity to send it back if it doesn't.
One drawback of online shopping is the uncertainty about what you'll get when the order arrives. One of the many joys of online shopping, though, is that you have so many ways to shop and save — even on return shipping! You can join FreeShipping.com and enjoy consistent 10% cash back, free shipping, and free return shipping via FedEx Ground® on your purchases at over 1,000 retailers, including many of the stores you already know and love. You can also join Return Saver and get free return shipping via FedEx Ground on practically every online purchase you make year-round.
Whatever option(s) you choose, shop wisely — and save well!