A Star is Born
Review by Myla Tosatto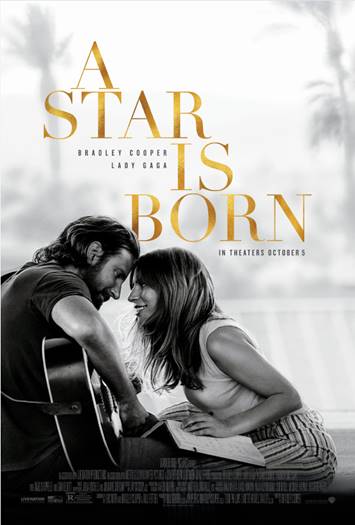 Okay, Little Monsters, grab your Lady Gaga concert tee and get to the theater! Gaga came to play in Bradley Cooper's A Star is Born and she has the receipts. Also, go ahead and grab some Kleenex. You're gonna need it for this one.
Bradley Cooper plays Jackson Maine, an alcoholic singer on the downside of his career. He plays it to grizzled perfection. Lady Gaga is the ingénue he discovers, Ally. They meet, perform together, fall in love, marry and live life as a famous couple. They do this all while hiding the truths in their relationship; addiction, dependency, insecurity, enabling, and bad hair dye jobs. While Ally's star rises, Jackson's is falling. It's a retelling of the three previous A Star is Born movies, and Cooper does a great job keeping it fresh.
The two main actors do a terrific job as do their co-stars Anthony Ramos, Sam Elliot, and Dave Chappelle. The most notable costar performance is Andrew Dice Clay as Ally's father, Lorenzo. I wouldn't be surprised to see the comedian get an Academy Award nom for best supporting actor.
Oh? Are you curious about the music? Well, it's pretty much what you would expect in the Lady Gaga department. But Bradley Cooper is going to surprise you, I think. The songs are mostly all originals* and Cooper and Gaga not only sing them but have their hands in the producing and writing, as well.
There are adult themes in this R rated movie but high school kids and up will enjoy the film. You get a tiny peek at a naked Gaga, but just a tiny one. If anything, it will offer a great message on how to stay away from drugs and alcohol and the aforementioned bad hair dye.
* PLEASE PLEASE PLEASE Bradley Cooper, make a Lady Gaga cover of Queen Bee (from the 1976 A Star is Born) for the video release. That would make every dream of mine come true.
A Star Is Born is NOW playing in theaters!