Absolutely Fabulous: The Movie Quotes and Review
by: Myla Tosatto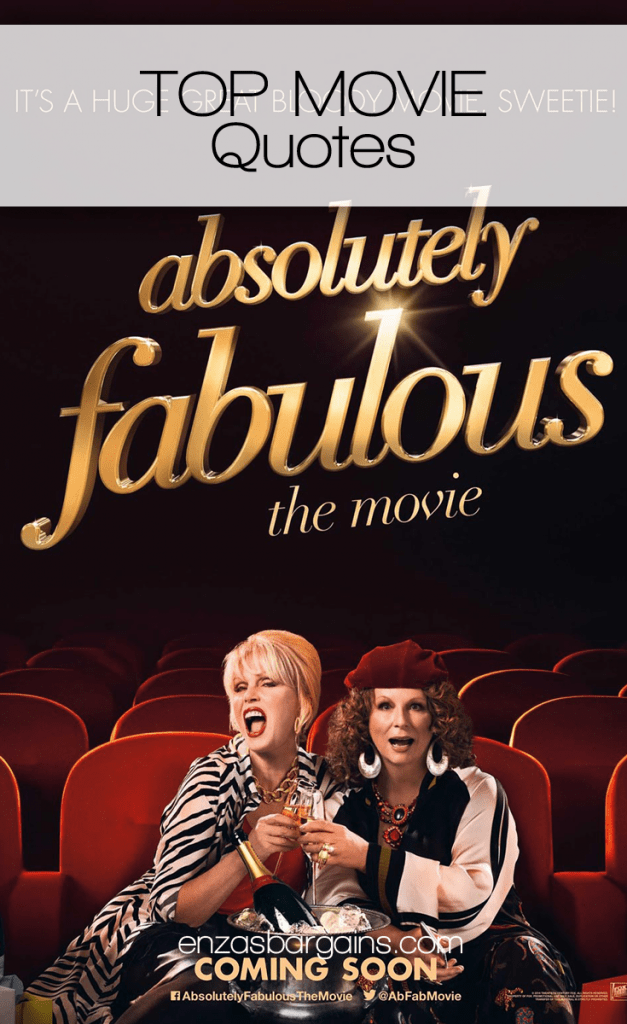 Absolutely Fabulous: The Movie Quotes
"Wakey, wakey, milady." – Bubble
"Keep up, Sweetie." – Patsy

"All of my credit cards are broken." – Eddy to Bubble about her maxed out credit cards
"Exercise. Exercise. Done."- Eddy while taking a 5 foot scooter ride
Eddy- "I need wheels."
Bubble- "But you were only given feet."

Eddy- "Did you feed my Twitter?"
Bubble- "No. I forgot and it died."
Patsy- "I'm twerking."
Eddy- "No, you're not."

"I'm going to roll away the Hamm."- Patsy speaking about Jon Hamm
"Hamm. Jon Hamm."- John Hamm
"It mostly says blah blah blah."- Joel, the book publisher, to Eddy about her memoir
"Can you just shut up, darling? I'm trying to get my mindlessness." Eddy to Saffy

Saffy- "Do you know what a pariah is?"
Eddy- "Yes. It's a fish."
"Beyonce cried too, but she surrendered." Christopher, the hair stylist
"Cheers. You don't get THAT on British Airways."- Patsy to the flight attendant
"Make your own kind of music." – Christopher to Saffy after she sings "At 17" at a karaoke bar
"Stone. Pat Stone."- Patsy as a man
"This could be the first start of the days of the rest of our lives."- Eddy
"They gave her to housekeeping." –Baby Spice
"That's quite nice, actually."- Patsy
"I'm going to join Kate in the watery grave."- Eddy
"The party is where you are."- Jean-Paul Gaultier to Kate Moss emerging from the water
"I'm working from Nobu this week."- Eddy
"I'm going to be a big cheese in the Big Apple."- Eddy

Absolutely Fabulous: The Movie Review
I want to admit something up front before I even start this review. I am a huge Anglophile. HUGE. I drink hot tea for pleasure! I mean, how fun is it to drink a cuppa with your pinkie raised? SO FUN! My ringtone is the theme from Doctor Who. I want the ravens from the Tower of London to live with me as pets. If I could meet Tom Hiddleston or Benedict Cumberbatch, I would swim the English Channel. And I can only doggy paddle. So when I was asked to write a review for Absolutely Fabulous: The Movie, how did I respond? Sign me up, sweetie!
From 1992-2012, Edina Monsoon (Jennifer Saunders) and Patsy Stone (Joanna Lumley) entertained us on the BBC sitcom Absolutely Fabulous. This is their first time on the big screen, and it's everything we have grown to expect from our 2 middle-aged toddlers. And speaking of toddlers, this is not a movie meant for kids (of any age!). Our girls get into some trouble and wallow around in some very adult themes! Suffice it to say, things go off the rails when Eddy accidentally pushes Kate Moss into the River Thames. Eddy and Patsy run off to France and get into some car chases and capers along the way. If you are familiar with the TV program, you will laugh along easily with their exploits. If you are new to their story, it won't take long to catch up.
Is this movie Absolutely hilarious? YES! Is this movie Absolutely British? YES! Is this movie Absolutely off limits for kiddos? YES! Is this movie Absolutely Fabulous? YES!
The movie is out EVERYWHERE TODAY! Grab your tickets today!