Bad Times at the El Royale
Review by Myla Tosatto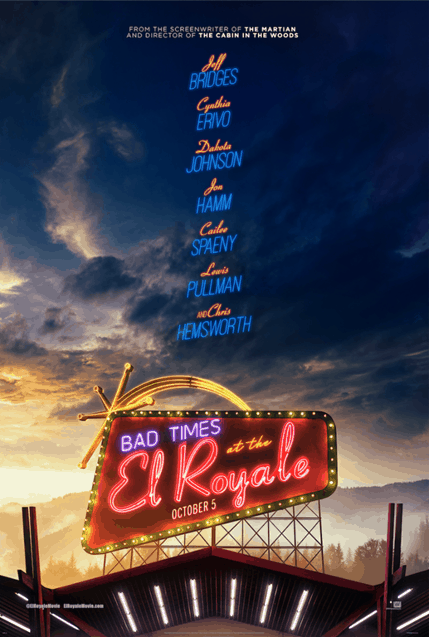 Bad Times at the El Royale starts out with a bang. Then it continues with a bang. It also ends with a bang. It is not a sleepy, period piece drama. No it is not.
Five strangers check into the El Royale, a hotel that straddles the California and Nevada borders: Traveling salesman Laramie Seymour Sullivan (Jon Hamm), Father Daniel Flynn (Jeff Bridges), Singer Darlene Sweet (Cynthia Erivo), and curious stranger, Emily Summperspring (Dakota Johnson). Assisting them in their stay is Miles (Lewis Pullman), the hotel worker that is apparently in charge of everything.
Many, many things happen at the El Royale much like director/writer Drew Goddard's The Cabin in the Woods. There is a lot of death and freaky stuff, so be warned. Did I say freaky? A lot of that comes in the form of a charismatic cult leader, Billy Lee (Chris Hemsworth doing his best sexy Jim Morrison impersonation) and his psychotic acolyte Rose (Cailee Spaeny). The sight of Billy Lee dancing next to Father Flynn is worth the price of admission alone.
Let's not bring the kids, okay? There's so much horrific violence and disturbing images and words. It's also has a very long running time of 2 hours and 20 minutes.
The El Royale isn't a place I would want to stay but it is an interesting visit for two hours. The sets, costumes and music are absolutely fabulous. The Lake Tahoe vibe during the Vietnam era is perfectly captured (but with added murder and mayhem, of course).
This movie is already playing in theaters!