Baywatch
Review by Myla Tosatto
Baywatch Movie Review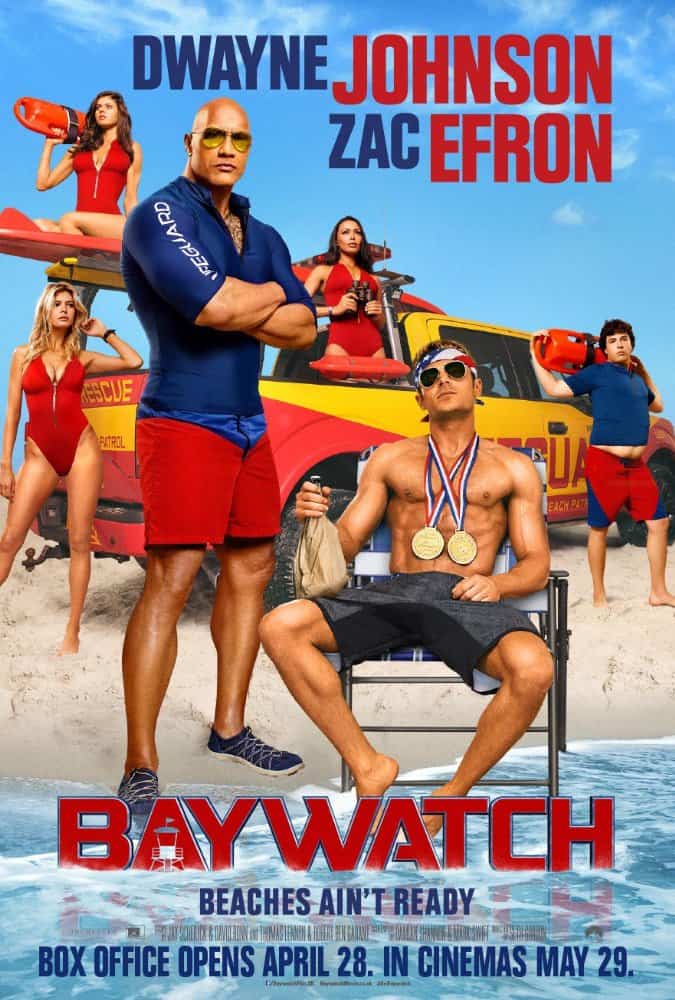 FULL DISCLOSURE: I have never seen the hit TV program that Baywatch the movie is based on….
It's not that I didn't appreciate the genius of David Hasselhoff or the beauty of a slow-mo running Yasmine Bleeth. It just wasn't on my radar. But you know who IS on my radar? Dwayne Johnson who plays Mitch Buchannon and Zac Efron as Matt Brody, that's who. Sure, they both have made some pretty horrible movies, but by golly, they are two extremely charismatic gentlemen. They can even make aqua socks (the least attractive of footwear) look sexy. They are THE ROCK on which the movie is based (see what I did there?). They lead an elite group of lifeguards in the town of Emerald Bay. Rounding out the crew is Summer Quinn (Alexandra Daddario), Stephanie Holden (Ilfenesh Hadera), Ronnie Greenbaum (Jon Bass) and CJ Parker (Kelly Rohrbach). The team saves lives and fights crime in all kinds of funny and fantastic ways, much to the chagrin of Captain Thrope (Rob Huebel) and Sgt. Ellerbee (Yahya Abdul-Mateen II).
The movie is humorous and wicked in a tone that all good summer action comedies should. It is not meant for younger viewers. Imagine the TV show but with MANY four letter words thrown in. MANY. The film is for anyone who liked the movie remakes of such TV favorites as Starsky and Hutch, Charlie's Angels, and 21 Jumpstreet. The movie is also for folks that appreciate films that showcase smart, capable, and kind women that help each other. It didn't pass the Bechdel Test, but hopefully they will address this flaw in the sequel. The movie is also full of life lessons. I, for one, learned that my body is not yet beach ready. Pass me the sunscreen!
As Johnson's Mitch says, "Baywatch is more than a job, it's a way of life." It's also a great way to pass two hours on a hot summer evening.
Baywatch is NOW playing in theaters!
Baywatch follows devoted lifeguard Mitch Buchannon (Johnson) as he butts heads with a brash new recruit (Efron). Together, they uncover a local criminal plot that threatens the future of the Bay.
Purchase discounted tickets by using Dealflicks.com! Feel free to save an additional 20% by using the code RFGGTRFLUF at checkout!