Rami Malek, Lucy Boynton, Joseph Mazzello, Ben Hardy, Aidan Gillen, Mike Myers star in Bohemian Rhapsody! We are excited to share some pairs of Bohemian Rhapsody Advance Screening Kansas City tickets with several of our readers! These will probably go quick. So if you aren't already signed up for our Kansas City email list, be sure you sign up today because many times we have tickets that only go out by e-mail and we usually email out these tickets as soon as we get them.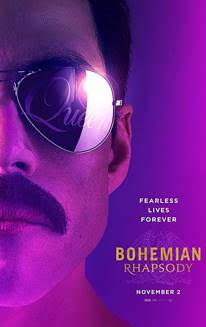 A chronicle of the years leading up to Queen's legendary appearance at the Live Aid (1985) concert.
Join us:
Bohemian Rhapsody
Tuesday, October 23, 2018 at 7pm
AMC Studio 28
Get tickets
**Please only get your tickets if you are planning to attend. If you can't use your tickets be sure to release them from Gofobo so someone can attend. Tickets aren't guaranteed and they do come on a first come basis.
The movie opens in Kansas City on November 2nd!
**NEW** Kansas City Exclusive E-mail List for Enza's Bargains
We had to start our e-mail list over from scratch.  Be sure you have subscribed again (if you were already on it).
If you are in KC and want me to e-mail you free movie passes, giveaways, and information on local entertainment please be sure to subscribe to my **NEW** e-mail!  Those who have subscribed get first dibs usually on tickets and giveaways! Subscribe HERE.  Now since you have subscribed, be sure to fill out the form for your official entry!