If you ask me what the number one chore that I hate doing the most my answer would be dishes.  I thought once I had a kid they would do the dishes, but I was wrong. Well, I was right. They do the dishes. Just not correctly, so I STILL have to do the dishes (when I redo them)! LOL! However, someone very smart (I am convinced it was a mom) corrected the dishwasher! My favorite is the new Bosch 800 Series! This dishwasher delivers a sparkling clean and dry with advanced PrecisionWash technology and patented CrystalDry™ technology. This is a sponsored post by Best Buy. All enthusiasm is mine and only mine.

About Bosch Series Dishwasher:
24" width
There's room for up to 16 place settings. Plus, choose from 6 wash cycles including five-level wash, 5 options like Extra Dry, and a concealed heating element.
Flexible 3rd rack
Accommodate the odd one out. Adding the 3rd rack with its adjustable tines can create the right fit for deep, tall, or uniquely-shaped items.
EasyGlide™ rack
Load and unload smoothly. It's easy to adjust and move the racks, even while they're full of dishes.
RackMatic®
Fit it all, every time. With 3 different height levels and up to 9 possible rack positions, you can customize each load for your needs.
24/7 Aquastop®
Protect your floors. This 4-part leak prevention system uses sensors to detect and stop leaks, and can even turn on by itself.
42-dBA noise level rating
Wash dishes in peace. Bosch dishwashers are so quiet, you have to check the exterior Infolight® to know they're on.
Touch Control
Program a cycle quickly. The integrated controls make it easy with simple touch technology.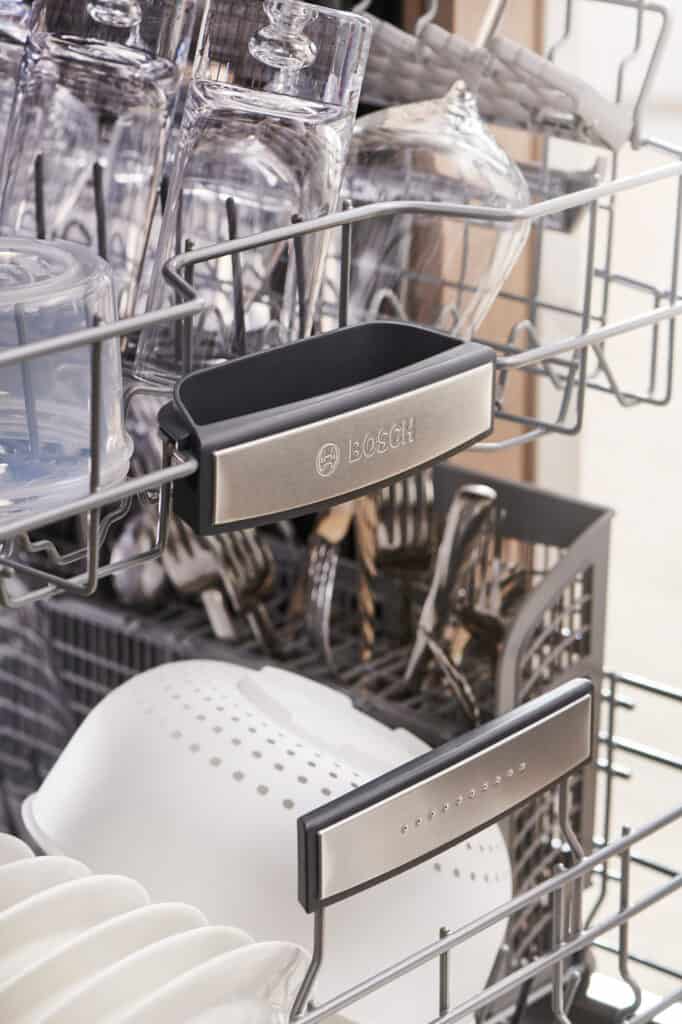 My Thoughts:
First off let me say everyone should have a dishwasher! They are truly a life saver. You spend less time doing dishes and more time with your family. The things things that set this dishwasher apart from the other is the patented CrystalDry™ and PrecisionWash technology. With these two factors are guaranteed to get the ultimate sparkling clean and ultimate dry on all your dishes including plastics! The dishwasher is equipped with intelligent sensors that continually scan and check the progress of the dishes throughout the cycle, and powerful spray arms  that targets every item of every load, for the ultimate clean.

Bosch was really thinking about mothers when they put this dishwasher together. Besides getting the job done perfectly it is also extremely quiet. With little ones at home that is a must have feature! I can do dishes and not have to worry about the dishwasher waking them up during nap time. It has a large interior that provides the loading flexibility to easily accommodate 16 place settings, and Bosch's largest 3rd rack- the MyWay rack provides additional loading space for cereal bowls and large utensils. Between this and being ENERGY STAR qualified this means have the potential to save loads of money. So let's sum this up: this dishwasher saves money, time, cleans great, drys good, and it's big enough to fit several dishes! This is something that I think every household needs to have.  I know what I want my next dishwasher to be.