Boy Erased
Review by Myla Tosatto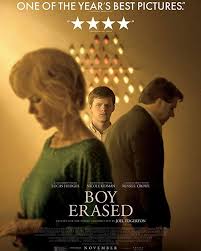 Before I write this review, I must admit that I didn't read Boy Erased by Garrad Conley. I knew what that the subject matter was gay conversion therapy. I knew it was a true story. That's all I knew. Admittedly, going into the movie I thought I was going to be sad and angry. I assumed that the teenager Jared Eamons (Lucas Hedges) would be portrayed as a victim at the hands of his ghastly parents. I was wrong. Yes, I was angry. There is no denying that. But I wasn't angry with Jared's parents Nancy and Marshall Eamons (Nicole Kidman and Russell Crowe). They actually were trying to do what they thought was right. It came from a good place. The kicker here is that Jared wanted to please his parents and he wanted to change (at least at first). This makes for a gripping and emotional story.
Jared did become the victim of Victor Sykes (Joel Edgerton- who also directs the movie) and his church run organization. Luckily, Jared was strong enough to make it out of the program. That cannot be said about all of the participants.
As a parent, this movie will leave you emotional and raw. We hope we are doing the best for our children, and if we aren't- well, we hope we can correct it quickly. Which brings me to if you should bring your children- be warned there is a rape scene. It is brutal. There is also a scene that I am still unable to wrap my head around that is graphic and gut wrenching.
Thirty-six states still allow gay conversion therapy. If more people saw this movie, maybe that would change.
Boy Erased is now playing in theaters!