Weekdays can be a little hard especially this time of the year. I know a lot of moms would love to spend more quality time with family instead of cooking. The Chef Al Dente: Singing Pasta Timer can help with that! Product was sent to us for free in exchange for our promotion.  This post might also contain affiliate links which may earn us a small percentage to help cover our expenses if you choose to make a purchase.
 The Smart Touch Chef Al Dente Singing Pasta Timer is a fun and easy way to get perfect pasta every time. Made of high heat resistant and food safe plastic, Chef Al Dente lets you know once their pot of water is boiling and starts singing once their pasta is perfectly Al Dente. You simply stick it right in the water when you are cooking pasta. Once it hits boiling temp it will start a timer and when the timer is done it will sing letting you know the pasta is perfect!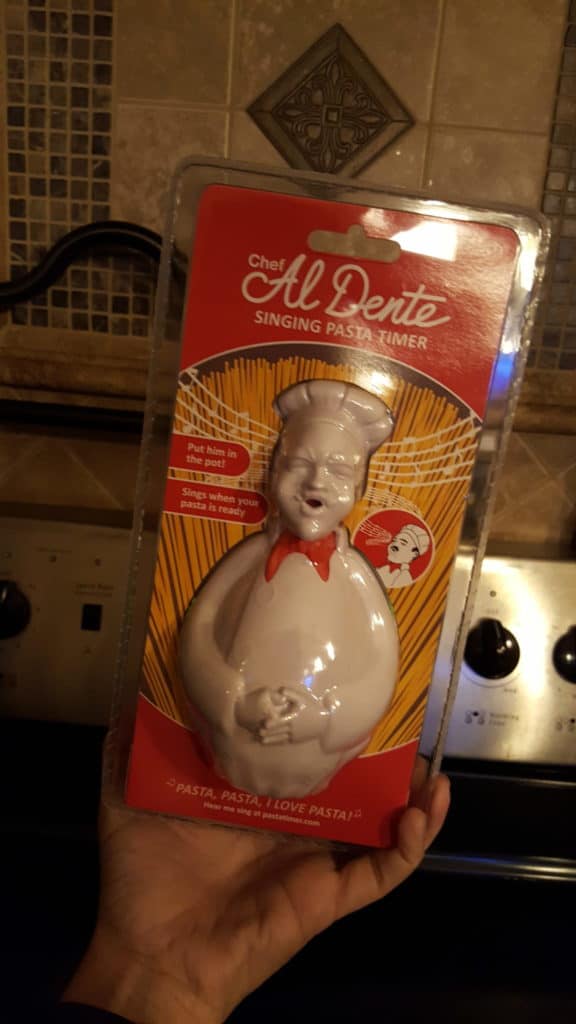 This would make a great gift for anyone who cooks. Rather you are novice or expert cook! I know with four kids around I tend to get a little distracted and let my pasta cook longer than it should. With the pasta timer I wouldn't have to stress it. Making it easier to spend time with my family while cooking and less time actually cooking. If this fits someone on your gift list this year (or you want one for yourself) you can learn more by visiting Viatek Products.
Be sure to check out the UPDATED Holiday Gift Guide Items this year for 2017!

[catlist id=225 thumbnail=yes numberposts=50 template=enza]