My Cousin Rachel
Review by Myla Tosatto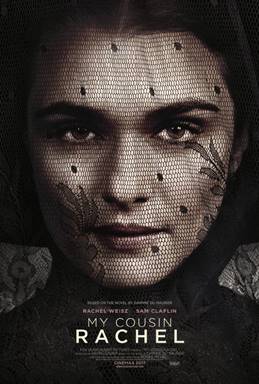 Just to get it straight, this is not a sequel to My Cousin Vinny, much to my husband's chagrin. This is not a delightful romp where a madcap Joe Pesci and Ralph Macchio are fish out of water. This is My Cousin Rachel. This is a much, darker, broodier tale. It stars Rachel Weisz as the titular character and Sam Claflin as Philip, her cousin, lover and tormenter. It's the age old story of a boy who is orphaned, taken in by his uncle, uncle then meets and marries charming Italian-English woman, uncle dies of natural or mysterious causes, orphan inherits uncle's fortune, orphan meets uncle's mysterious widow, orphan hates and falls in love with said widow… The story is basically a slow burn romantic suspense thriller. Who is in love? Who is playing who? Who will end up with the money? Rachel and Phillip have help along the way figuring it out with guidance from Philip's godfather, Nick Kendall (Ian Glen) and his daughter, Louise (Holliday Grainger).
Besides the sweeping melodrama that plays out, a smaller story is going on in this movie as well. It's not quite as dramatic, but very fun. We get to witness an old timey HGTV's Fixer Upper/Trading Spaces thing where the prosperous but falling apart estate becomes beautiful and breath taking in front of us. Rachel may or may not be a good person, but she is a wiz at decorating. She knows how to place a candlestick AND how to gaslight. Talented woman!
This movie is not for the kids. Though rated PG-13, it deals with adult subjects that may not interest them. Wills and estates become pot boiling issues here. Speaking of pots boiling, after the movie go home and have a nice cup of tea…or don't…your choice.
Purchase discounted tickets by using Dealflicks.com! Feel free to save an additional 20% by using the code RFGGTRFLUF at checkout!