I am so excited to finally share with all of you an experience that feels like it was so long ago. Two years ago in November, I was invited to visit the set of Stargirl. When I was asked to visit the set, I had heard of the book but hadn't read it. I knew that Disney was going to launch their new streaming service but they had yet to announce the name. I remember watching Grace VanderWall just knock it out of the park on America's Got Talent a couple of years back.
Stargirl Trailer was released today but I have more to share!
Stargirl Trailer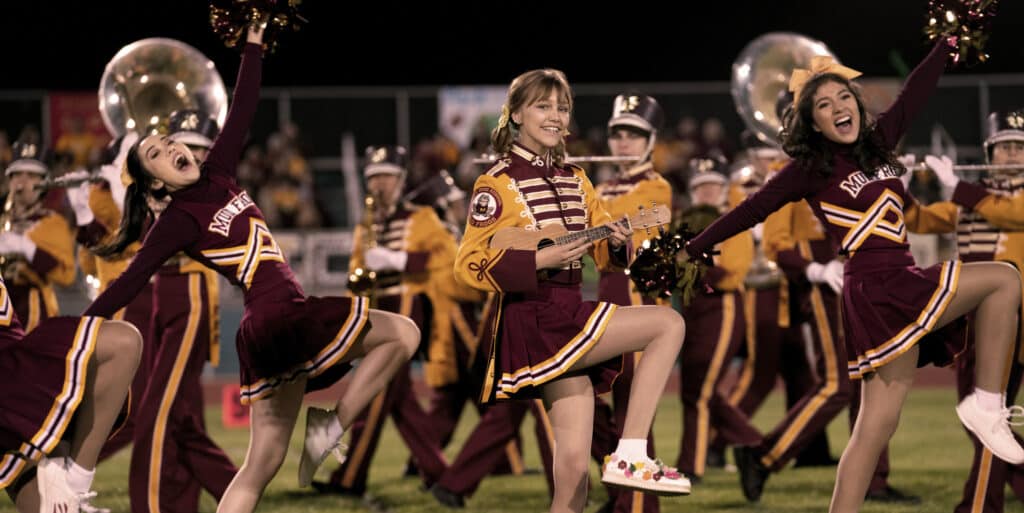 Disney+ Stargirl Set Visit

After being invited and learning that Disney was creating this new movie and that it was going to be one of the first movies launched exclusively to Disney+, I was quite excited. Disney is the best at telling stories and tugging at my heartstrings.
I quickly called the library and got my audio copy as part of my homework to prepare for the set visit. I not only listened to the book myself, but I included my two daughters and we listened to it to and from school. Even the youngest wanted to hear more of the story!
The story is absolutely beautiful. It is a great and easy read. If you have young kids, then they need to read this story. It has magic to it, but the magic is real. The meaning and message of the story has relevant today, tomorrow, and almost 20 years ago with the author Jerry Spinelli wrote the book.

The story takes place in Arizona, but it was filmed in Albuquerque, New Mexico. I flew out for the weekend and I got to interview 17 different cast and crew members who were a part in making this movie. I have never in my life had so many back-to-back interviews. I have never participated in speed dating before but I am pretty sure it felt just like our day on the Stargirl set. I felt like I had just ran a marathon because of the high amounts of energy and passion in the room. It was amazing to dive so deep into the creative talent of this film.
We had the experience to walk through one of the hot sets. That meant that they were filming on the set and we were unable to touch anything since everything was placed and ready for action. We also were able to visit the costume trailer and even eat next to the cast and crew.
Back in August, D23 announced Stargirl was going to a new Disney+ movie.
"The stars of "Stargirl," Grace VanderWaal and Graham Verchere, were welcomed on stage to help introduce the coming-of-age film based on the critically-acclaimed, New York Times' best-selling young adult novel. "Stargirl" is directed by Julia Hart from a screenplay by Kristin Hahn and Julia Hart & Jordan Horowitz based on the novel by Jerry Spinelli. The film also stars Karan Brar, Maximiliano Hernandez, Darby Stanchfield and Giancarlo Esposito. "Stargirl" is produced by Ellen Goldsmith-Vein, Lee Stollman and Kristin Hahn. "Stargirl" will launch on Disney+ in early 2020."
Finally the trailer for Stargirl has been released and I can spill the beans from my set visit!  I will be sharing more about the film in the coming weeks, but until now mark your calendar!
We can't wait to see Stargirl when it streams on Disney+ March 13th!