I am so excited for the newest announcement of the new Onward release that I had to hurry and create a Disney's Onward craft to share with all of you! For those who aren't aware Disney's Onward was just in theaters THIS month. With our busy schedule and my traveling, we weren't able to see it yet. What does Disney always do…the send us the magic of the movies! ENJOY our Disney's Onward Wizard Staff craft and activity pages and be sure to tag us in any posts. This post may contain affiliate links at no cost to you.

Disney's Onward Craft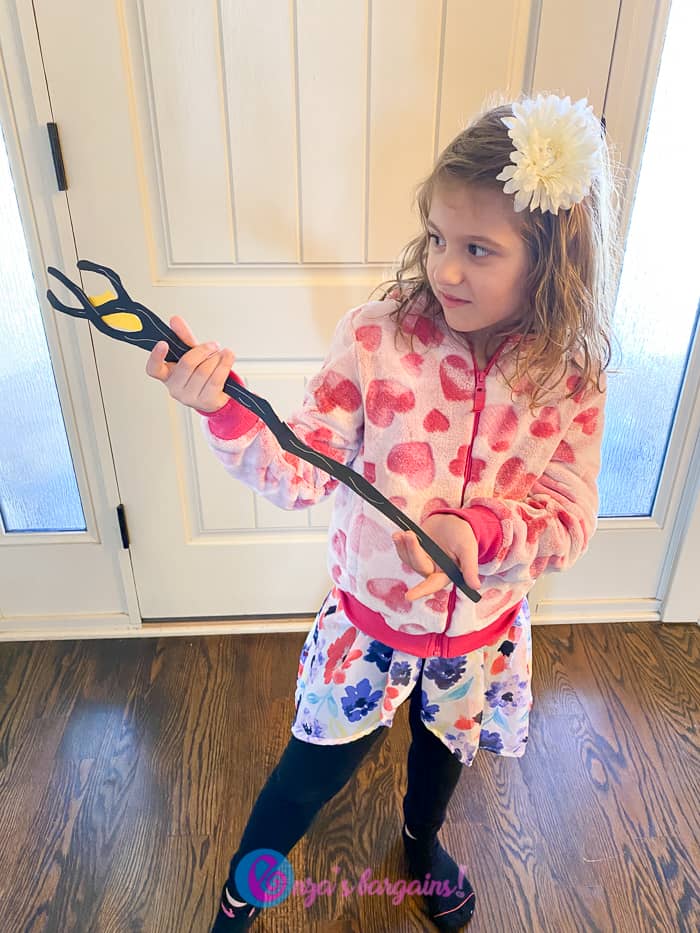 You can use our images to trace and cut or use a Cricut machine to make these Wizard crafts.  We plan to use ours to add to an art project for after we watch the movie.

What you will need:
To make your Onward Wizard Staff craft you just need brown and yellow construction paper.  It is a really easy and fun craft to do you with you kids.  You can even use our image to create other items with vinyl and heat transfer iron-on vinyl.  Get the full list:
Brown Construction Paper – I prefer Pacon because it isn't fuzzy.
Any paper item to attach your craft (Optional)
Glue or Tape
1. Cut the staff and the diamond using our two images below.  The staff will look the best on brown or black and then the diamond will look good in gold!
Staff:

Diamond:

2. When you are done use glue to attach the two pieces together.

Now since you have your paper Onward Disney Staff you might want to check out this cute craft I found online to make Onward Elf Ears!
But that isn't it you can also print off the activity pages I included on the bottom of the page!
The Walt Disney Studios announced that Disney and Pixar's ONWARD will be available to buy digitally and on Movies Anywhere beginning March 20th at 5:00pm PST/ 8:00pm EST and on Disney+ on April 3rd in the U.S. Check Amazon for the movie title!
Activity Pages
Here are a few samples of what the Disney Pixar activity pages look like. Be sure to print your copy below.
Grab mazes, coloring sheets, and a memory game by downloading our PDF!
About Onward
In "Onward", teenage elf brothers Ian and Barley Lightfoot (voices of Tom Holland and Chris Pratt) get an unexpected opportunity to spend one more day with their late dad, embarking on an extraordinary quest aboard Barley's epic van Guinevere. Like any good quest, their journey is filled with magic spells, cryptic maps, impossible obstacles and unimaginable discoveries. But when the boys' fearless mom Laurel (voice of Julia Louis-Dreyfus) realizes her sons are missing, she teams up with a part-lion, part-bat, part-scorpion, former warrior – aka The Manticore (voice of Octavia Spencer) – and heads off to find them. Perilous curses aside, this one magical day could mean more than any of them ever dreamed.