We have 5 pairs of passes to see Dunkirk! This is a flash giveaway! So thank you for subscribing to our e-mail! I am guessing this is how your heard about our passes!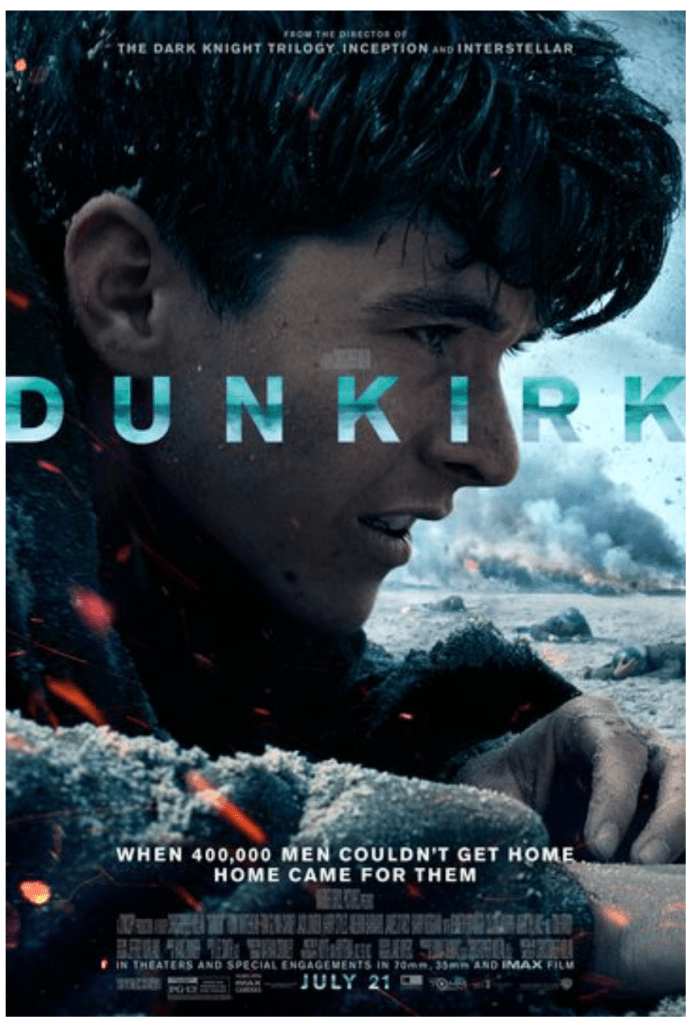 For your chance to get a pass, log on to
WBTickets.com
Enter the code
CHGPq86610 for a pair of passes!
Event Details
Location: Olathe, KS 66062
Date: July 17, 2017
Time: 7:00 pm
Kansas City Exclusive E-mail List for Enza's Bargains
If you are in KC and want me to e-mail you free movie passes, giveaways, and information on local entertainment please be sure to subscribe to my e-mail!  Those who have subscribed get first dibs usually on tickets and giveaways! Subscribe HERE.  Now since you have subscribed, be sure to fill out the form for your official entry!
About the Movie:
From filmmaker Christopher Nolan ("Interstellar," "Inception," "The Dark Knight" Trilogy) comes the epic action thriller "Dunkirk."
Nolan directed "Dunkirk" from his own original screenplay, utilizing a mixture of IMAX® and 65mm film to bring the story to the screen.
"Dunkirk" opens as hundreds of thousands of British and Allied troops are surrounded by enemy forces. Trapped on the beach with their backs to the sea they face an impossible situation as the enemy closes in.
"Dunkirk" features a prestigious cast, including Kenneth Branagh ("My Week with Marilyn," "Hamlet," "Henry V"), Cillian Murphy ("Inception," "The Dark Knight" Trilogy), newcomer Fionn Whitehead, Mark Rylance ("Bridge of Spies," "Wolf Hall") and Tom Hardy ("The Revenant," "Mad Max: Fury Road," "Inception"). The ensemble cast also includes Tom Glynn-Carney, Jack Lowden, Harry Styles, Aneurin Barnard, James D'Arcy and Barry Keoghan.
The film was produced by Nolan and Emma Thomas ("Interstellar," "Inception," "The Dark Knight" Trilogy), with Jake Myers ("The Revenant," "Interstellar," "Jack Reacher") serving as executive producer.
The behind-the-scenes creative team includes director of photography Hoyte van Hoytema ("Interstellar," "Spectre," "The Fighter"), production designer Nathan Crowley ("Interstellar," "The Dark Knight" Trilogy), editor Lee Smith ("The Dark Knight" Trilogy, "Elysium"), costume designer Jeffrey Kurland ("Inception," "Bullets Over Broadway"), and visual effects supervisor Andrew Jackson ("Mad Max: Fury Road"). The music was composed by Hans Zimmer ("The Dark Knight" Trilogy, "Inception").
Warner Bros. Pictures presents a Syncopy Production, a film by Christopher Nolan, "Dunkirk." Opening worldwide starting July 21, 2017, in conventional theatres and IMAX, the film will be distributed by Warner Bros. Pictures, a Warner Bros. Entertainment Company.
"Dunkirk" has been rated PG-13 for intense war experience and some language.