Our family has an elf.  With my kids both loving, living, and talking Minecraft all day long.  It was only appropriate that Sparkle appeared as an Elf on the Shelf Minecraft Minecreeper Box.  I decided to share a quick way that you can create the same thing for your elves.  Technically we have two elves.  One of them is a plush that our girls are allowed to touch and usually makes it to the N. Pole each night but sometimes it likes to stay throughout the night. This is a sponsored post that has affiliate links.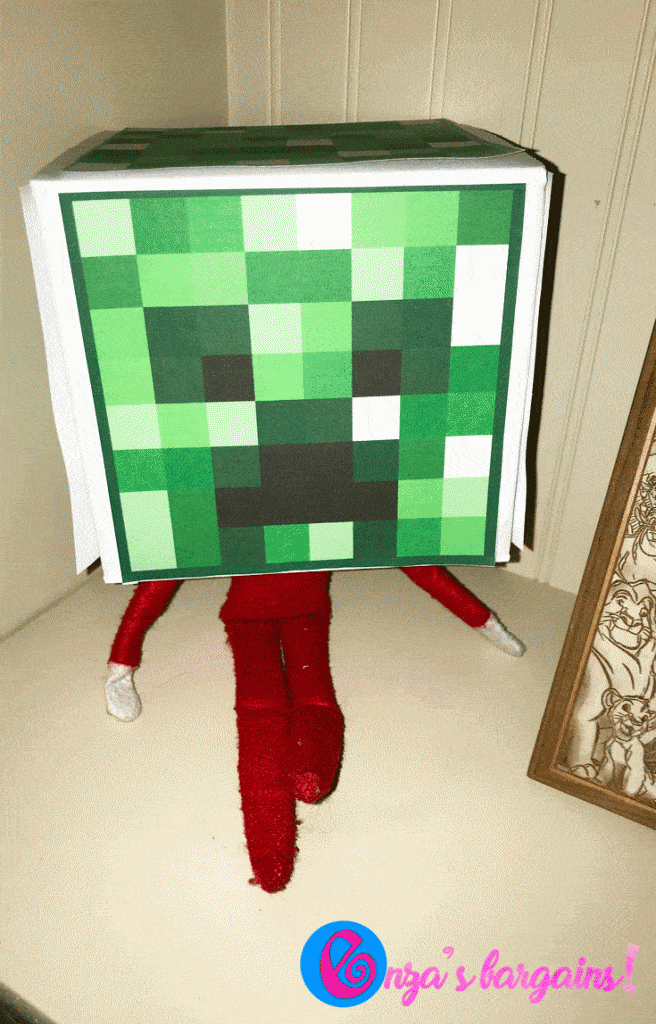 Elf on the Shelf Minecraft Minecreeper Box
Sparkle didn't have to spend any money to make her Elf on the Shelf Minecraft Minecreeper Box. The first thing you will need is a square box.  Our elf found hers in the garage near our recycling about to be thrown out.  You can find one using our affiliate link to Amazon and find one that you want to use here.
Once you have a box picked out use the Minecraft Printable Costume Set found on this blog. Print out one face and 4 sides of the Minecreeper. Glue them on each side, so that your elf on the shelf can pop their head through the box.
If your kids have been really good and your elf likes to drop of Minecraft gifts throughout the season.  Be sure to check out some of the cute little Minecraft legos and toys available on Amazon.
If you are looking for more Elf on the Shelf ideas be sure to check them out!  We have been featured on lots of other sites for all of the crazy things our elf has been up to!