Join us for a free advanced screening for the new upcoming movie "Before I Fall"!  The screening is tomorrow at 11am in Independence, MO!  We have several free pairs of passes! Just click on the link below for a chance to see the movie for FREE!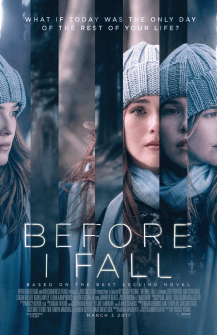 SCREENING:
SATURDAY, FEBRUARY 25
AMC INDEPENDENCE 20
11:00AM
Sign up –> http://www.gofobo.com/CYwqP62271
DIRECTED BY: Ry Russo-Young
CAST: Zoey Deutch, Halston Sage, Kian Lawley, Logan Miller, Cynthy Wu, Elena Kampouris, Medalion Rahimi, Jennifer Beals.
SYNOPSIS: What if you had only one day to change absolutely everything? Samantha Kingston has everything: the perfect friends, the perfect guy, and a seemingly perfect future. Then, everything changes. After one-fateful night, Sam wakes up with no future at all. Trapped reliving the same day over and over, she begins to question just how perfect her life really was. As she begins to untangle the mystery of a life suddenly derailed, she must also unwind the secrets of the people closest to her, and discover the power of a single day to make a difference, not just in her own life, but in the lives of those around her—before she runs out of time for good.
WEBSITE: www.beforeifallfilm.com
RATING: Rated PG-13 for mature thematic content involving drinking, sexuality, bullying, some violent images, and language-all involving teens.
RUNNING TIME: 99 minutes
Kansas City Exclusive E-mail List for Enza's Bargains
If you are in KC and want me to e-mail you free movie passes, giveaways, and information on local entertainment please be sure to subscribe to my e-mail!  Those who have subscribed get first dibs usually on tickets and giveaways! Subscribe HERE.  Now since you have subscribed, be sure to fill out the form for your official entry!