Fantastic Beasts: The Crimes of Grindelwald
Review by Myla Tosatto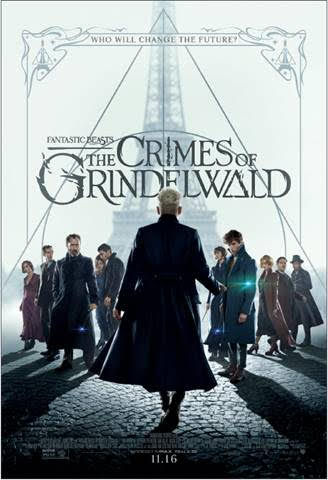 It's time to pick sides in the new Fantastic Beasts movie. Which side will you choose? Will it be Newt Scarmander's (Eddie Redmayne), Dumbledore's (Jude Law), and Tina's(Katherine Waterson) or will it be Grindelwald's (Johnny Depp)? If none of this makes any sense to you, that's okay. Before you go see Fantastic Beasts: The Crimes of Grindelwald maybe you should catch up with Fantastic Beasts and Where to Find Them. On second thought, you should definitely catch up with the first Fantastic Beasts movie. There is a lot of stuff happening in the second film, and you may not understand it. Like, at all. This post contains affiliate links.
Since Newt has written his book on his fantastic creatures, he is free to take on a new adventure with Tina, Jacob (Dan Fogler) and Queenie (Alsion Sudol). He isn't technically free to travel outside of Britain, but that's a whole other story. His adventure isn't a fun one. It involves seeking out Creedance (Ezra Miller) and stopping the charismatic, yet evil Grindelwald. He does get to reunite with his brother Theseus (Callum Turner) and old friend Leta Lestrange (Zoe Kravitz). Plus, Niffler and Bowtruckle are along for the ride being their mischievous and cute selves.
Writer JK Rowling and director David Yates take us on another action and visual journey in the Wizarding World. For all of us that are missing Harry Potter, this is your shot to see some of your favorite people and places like Dumbledore, Hogwarts, the Ministry of Magic and a few other HP surprises. However, to enjoy the Fantastic Beasts movies (and there will be five total), you don't have to have seen or read the Harry Potter movies and books. But the payoffs are out of this world! I was so excited to see Hogwarts that I audibly gasped. I also got pretty teary when I saw Dumbledore (who am I kidding, I'm teary now just writing the word Dumbledore).
I hope you are as excited to see it as I was. Everyone deserves this kind of magic in their lives.
Fantastic Beasts: The Crimes of Grindelwald is now playing in theaters! Watch the trailer below:
Fandango – Get $5 Off With Google Pay, use code: GPAY5OFFNOW