Written by: More With Less Today.
The kids are out of school right now, and they could possibly be getting cabin fever! I love finding FREE events for my kids and there are some really good ones right now!  Be sure not to miss out on our LIST below!  Whether you are looking for crafts or evens here are our favorite!  You can still have fun on a budget, we have compiled a list of national retailers with hands-on workshops, classes, and free in-store events for this weekend and more that are coming soon.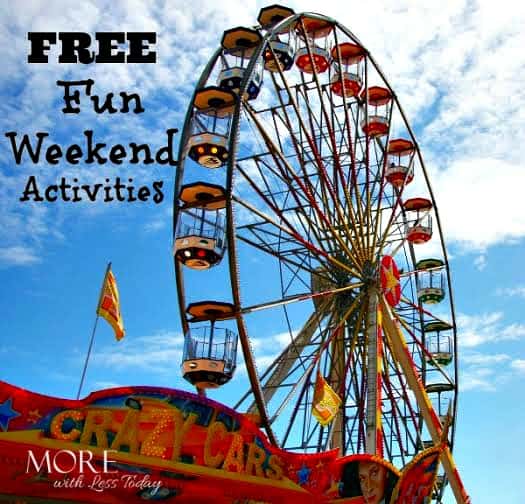 Share this fun, money-saving list with your friends and family. If you know of any other Free Weekend Events to include, please let us know! It's always best to call ahead to be sure that your local store is participating to avoid disappointment.
Saturday, December 31st at 11AM. Join in the fun for storytime and activities featuring Hap-Pea All Year. Contact your local Barnes & Noble store to verify participation.
Guitar Center
Saturday, January 7th at 10:15 AM
Learn to Play the Guitar – contact your local Guitar Center store for more information.
Saturday, January 7 from 9 AM – 12:00 PM
Kids make and take a Crate Toolbox. All kids get to keep their craft, receive a free certificate if achievement, a Workshop Apron, and a commemorative pin (while supplies last). Children must be present at the store to participate in the workshop and receive the kit, apron, and pin. Get more information at the Home Depot free workshops here.
The 2017 schedule will be posted soon at Lowe's Kids Clinics.
Saturday, January 7th from 10:00 am – 12:00 pm
Kids make and take a Sprout® Kindness Box
Cost $2 per project, supplies included. Kids 3 and up can enjoy a quick project.
Sign up in store, online or just drop in. Parent or guardian must remain on premises.
Pottery Barn Kids
Storytime on Tuesdays from 11 – 11:30 AM. For more information, visit Pottery Barn Kids events here.
Saturday, January 21st from 3-4 PM
Geoffrey's Birthday Club members can get a free Geoffrey plush toy and a storybook. Joining is free, get the information at the Toys R Us website.
Bank of America Museums on Us
Saturday, January 7th and Sunday, January 8th – Bank of America's Museums on Us is offering free admission to more than 150 museums nationwide. Simply present your Bank of America or Merrill Lynch credit or debit card along with a photo ID to gain free general admission to any participating institution. Cardholders only; guests are not eligible for free admission. For more information about Museums on Us, visit: http://museums.bankofamerica.
Lego Stores Free Model Build
Free LEGO Model Build Events are usually held monthly in stores. Kids ages 6 to 14 can build a model and take it home. You must use an email address saved in your LEGO VIP Membership account. Membership and registration are free. Get more information here: shop.LEGO.com/VIP.
Be sure and check out your local library and parks and recreation departments for free programs and events right in your hometown!