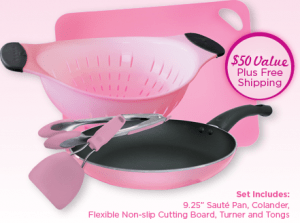 This FREE Proctor & Gamble PINK Cookware Set is back again! Last year this rebate was super popular! To score one here is what you will want to do:
1. Purchase $30 in P&G Products (BEFORE Coupons…woot woot!)!
2. Send in your receipt with this Rebate Offer: http://www.pgearlydetection.com/
These were so popular last year that they might take a while to get to you! I would scope out the P&G deals this weekend with the coupons and get one sent to you to set aside for a future gift (OR keep for yourself!)!
If you have a good P&G scenario PLEASE share! I totally want this deal!!!
Be sure to print some coupons before you leave!
I also found some Proctor and Gamble Cash Back Deals on the Ibotta App that you can stack with coupons!
(Thanks, Time 2 Save Workshops)