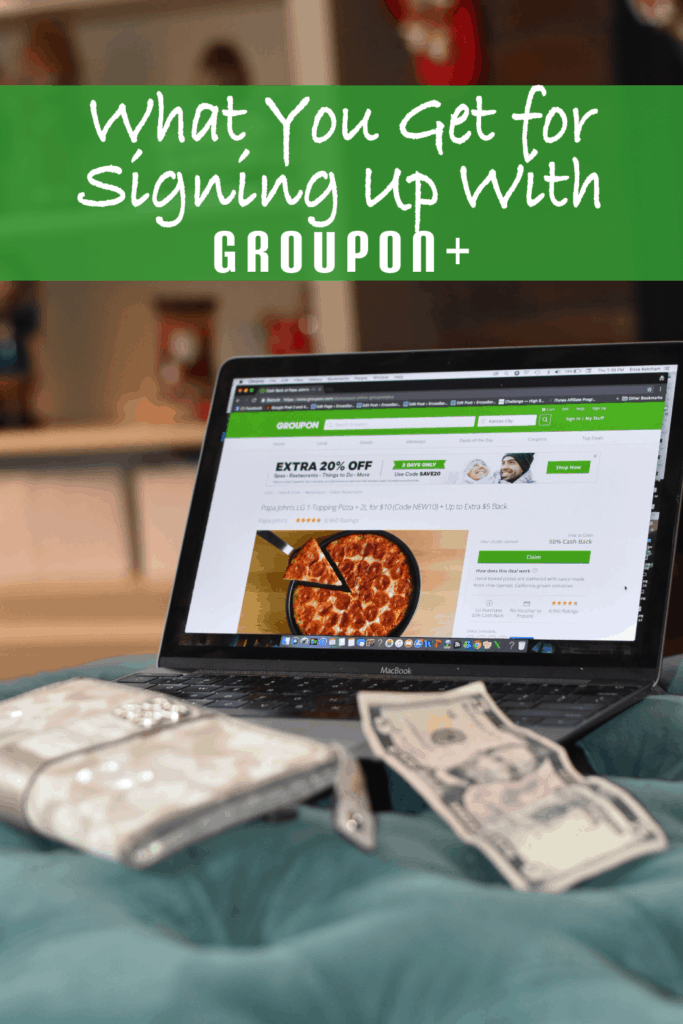 Have you heard of Groupon+ yet?  I have been using Groupon for years.  At one point I was known as the "Groupon Girl" by many readers and I always know what is the HOT Groupon offers to get! With the new year coming around the corner, my goal is to always save more money.  Groupon+ is a new feature of Groupon and if you aren't using it, then you aren't saving money!
We use Groupon for entertainment more than anything else!  What do you use Groupon for in your house? Do you use it for gifts? Do you use it for guilt-free date night, or what about entertaining the kids with new hobbies?
Groupon+ Review
I personally love how easy it is to save more money! What a great way to save without any hassle of anything.  Also, if you are looking for a great date night or family night out without printing out coupons and Groupon offers that may have blackout dates and fine print, this is the way to go!  We have already given it a try and love it!
Groupon+ is a CASH back program that allows you to claim virtual deals at local restaurants and without doing anything other than using the same card you have on file, you earn up to 30% cash back!  So if your family goes out to eat to a 30% cash back restaurant and spends $100.  Then your card will be reimbursed $30!  That is FREE money!
What is awesome about Groupon+ is that you have do not have any awkward printouts, there are no awkward coupons, and nobody knows you are saving money but you. It is totally free to sign up!  Business Wire calls this a way to make "date night affordable"!
By signing up for Groupon+, you are saving money, never having to print a voucher, never paying any money for a deal, earn cash back without any weird blackout or fine print coupon rules.
I am going to encourage each one of your to hurry up and sign up and try the Papa Johns offer TODAY!  Papa Johns is our favorite pizza place and when you use have signed up for Groupon+ you get 50% cash back up to $5 on your first order!
Signing up is easy!  When I went to sign up  for Groupon+ I realized it was only pushing one button since I have already purchased deals before, my information was already saved on the website.  You must have a Visa or Mastercard on file with Groupon.
Now since you are signed up you can start saving!  Look for restaurant deals in your area!  When you shop at those stores you get money back!  Be sure you are running debit card purchases as "credit" in order to qualify.
What I used Groupon+ for? 
I used it for a $10 pizza deal. After signing up for
Groupon+
you can
claim up to $5 cash back
and use code NEW10 at Papa Johns to get a large pizza and 2 Liter soda for only $10 (only $5 after cash back)! 
Groupon+ Papa Johns Deal
is only for a limited time.  Be sure to claim it out today!
How long will it take to get Groupon+ Cash Back? The cash back will come from Groupon, and your restaurant probably won't be sure what you are talking about.  Just be sure to use the same Mastercard or Visa you have on file and you have claimed the deal at the restaurant you are visiting.
So unless you just like making it rain and spending more for items that you can get for less, you definitely need to sign up today for Groupon+!  If you haven't heard of it, 2018 is going to be a great way to learn about different ways to save money and try new things.  Our family has lived off of shopping for sales and saving money so we can enjoy more in life.  Be smart and have fun and create memories.  We hope that Groupon+ allows for that extra date night or that extra family night out!  In the limited Papa Johns offer, perhaps it will make for a fun pizza and move night tonight!