Hey ladies! I am so excited to invite all of you to a very special Ladies Night Screening of the movie, "I Feel Pretty"! All of the ladies I know are beautiful, strong, and empowering women. It is only fair that we take some time for ourselves. There is nothing I enjoy more when I need a break then a good friends, a good movie, and lots of laughs! This post and event is sponsored by our friends from STX Entertainment and hosted by Enza.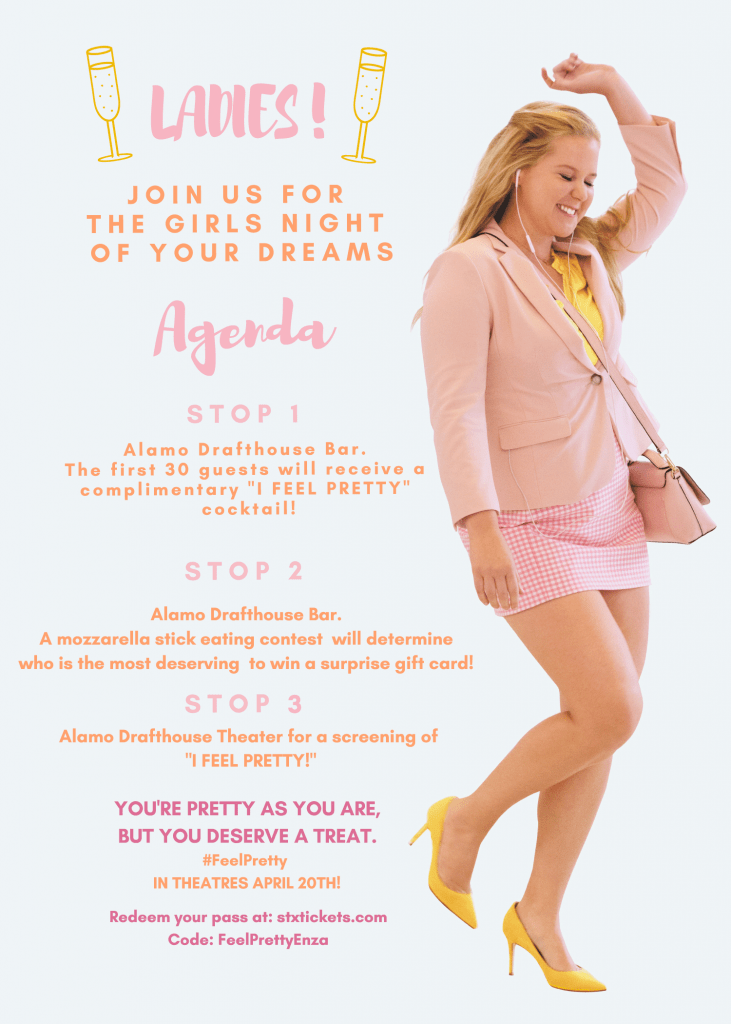 Be sure your RSVP, using our special link below! The first 30 guests who are 21 or older, will get a special themed cocktail!  Prior to the movie, we will have a special mozzarella stick eating contest and a fun prize for the winner!
About the movie: In "I Feel Pretty" an ordinary woman who struggles with feelings of insecurity and inadequacy on a daily basis wakes from a fall believing she is suddenly the most beautiful and capable woman on the planet. With this newfound confidence she is empowered to live her life fearlessly and flawlessly, but what will happen when she realizes her appearance never changed?
Sign up for this awesome Ladies Night screening below! Tickets are first come first serve.  Be sure to arrive early! While there, we encourage you to get out of your comfort zone and meet other guests attending the screening! We are so excited to see you there!  Let me know you will scored some tickets by tagging me @EnzasBargains!
RSVP below:
Wednesday, April 18th at 7:30pm (ARRIVE EARLY) 🙂
Alamo Drafthouse Mainstreet
Sign up HERE!
If tickets fill up quickly, be sure to sign up for our KC e-mail list. A lot of times they get a heads up prior to us posting online. If for some reason you are no longer able to attend, be sure to CANCEL your reservation so that someone else who is able to attend can go.  Thank you for your consideration.
Kansas City Exclusive E-mail List for Enza's Bargains
We had to start our e-mail list over from scratch.  Be sure you have subscribed again (if you were already on it).
If you are in KC and want me to e-mail you free movie passes, giveaways, and information on local entertainment please be sure to subscribe to my **NEW** e-mail!  Those who have subscribed get first dibs usually on tickets and giveaways! Subscribe HERE.  Now since you have subscribed, be sure to fill out the form for your official entry!