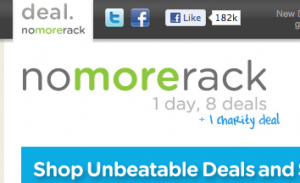 Nomorerack has been out of business for years.  Years ago everyone wondered, "Is nomorerack.com a scam?" What happened? Their customer service had so many complaints but their strategy of timed sales was new and exciting at the time.  They have now improved customer service and they have rebranded to JClub.com.  Check out my 2011 post where I was defending them before they went out of business a few years after this post.
2011 Post?
Is nomorerack.com a scam?
Hello Readers,  I have been promoting No More Rack because of their awesome insanity deals that they have been having because of the Holidays.  The other day I tried to log in and it kept showing me that I was logged in as someone else and it kept changing.  I didn't think anything of it other than their log in is messed up.  Yesterday, their was an uproar of people's privacy being compromised.  Possibly the ability to see other peoples accounts and credit card numbers.  I don't know if this were the case but this was how No More Rack responded on their fan page:
"Hello, as valued customers, we take your privacy and ensuring the security of your data very seriously. In the middle of the night last night, our technology team was alerted to an issue involving ability to login and our login process. In order to properly diagnose the issue and continue to ensure the security of the site, on notification we disabled the checkout process. We can assure you no billing information was compromised. Nomorerack does not store any card holder data, rather card holder data is stored within a PCI compliant environment and our billing gateway. Nevertheless, our team is reviewing all accounts accessed during the period of time when the login function experienced abnormalities to ensure the integrity of each customer's account. Please feel free to contact customer service with any questions or concerns you may have."
Is No More Rack a scam?  No.  I blog about them for a couple of reasons.  First, I think that their items are great bargains.  If I can find a great deal I post.  Second, I have purchased from them and I have yet to have a problem with them.  ISSUE:  Someone, somewhere, something messed up.  Apparently, while I was at work yesterday their fan page was going crazy with lots of complaints and someone was going through deleting them all. This made readers very upset and worried.    I do not defend No More Rack…I will just tell you my PERSONAL experience.
I understand stuff like this can happen to any business.  It makes me feel bad that I promoted them and then this happened.  Although, it wasn't my fault…I felt I wanted to inform all of you of the issues.  If you have any concerns you may contact No More Rack at: