Lets face it, IT is one of the most anticipated scariest movie for 2017!  With Halloween just around the corner, you know that IT is going to be the easiest and scariest costume!  Imagine a nice rainy Halloween night!  it makes me excited!  I think for the first time for a long time (since the baby made me dress up like a pig and my husband a butterfly) that I might actually dress up this year!  Plus I am in need of a good raincoat and some rain boots! Disclosure: This post does contain direct affiliate links.  This means if you choose to make a purchase from our links we might earn a small commission that helps pay for our website. We appreciate you!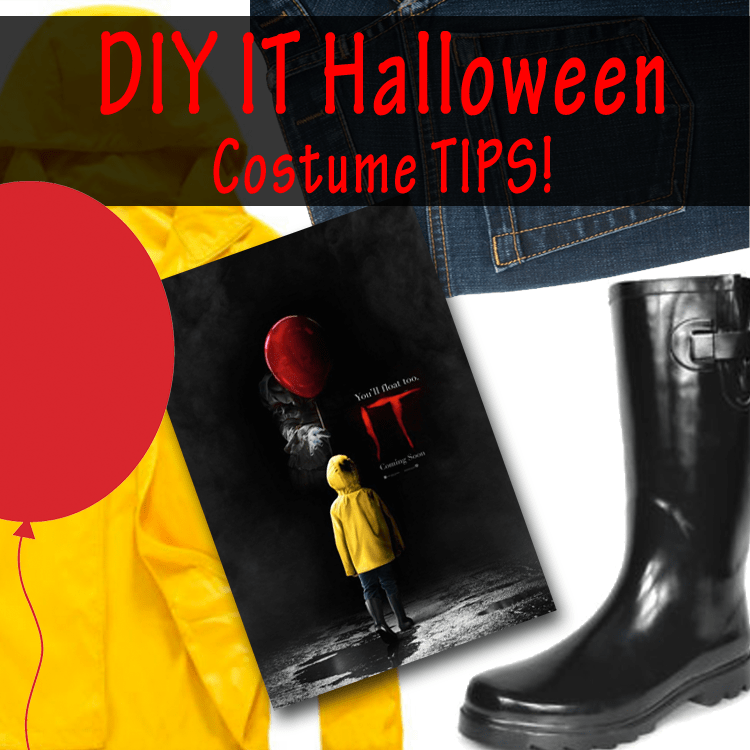 About IT
When children begin to disappear in the town of Derry, Maine, neighborhood kids band together to square off against Pennywise, an evil clown whose history of murder and violence dates back for centuries.
I remember this movie terrifying me as a kid and although I am a big baby when it comes to watching scary movies, I really want to see this one! If it is too scary, I can always walk out right? 😉  So Here is what you want to do to get your IT Halloween costume on a budget!
 You need a nice yellow hooded rain coat!  I found some on ebay and they are really affordable! The one I have pictures is Outdoor Waterproof Windproof Jacket and it is only listed for $8.99!
Everyone should have some jeans and any 'ol pair should work. Save some money rather than buying a new pair. 🙂
Now you need some tall black rain boots! The best deal I found is going to ebay and finding some new ones with free shipping!  the ones pictured are the Women Waterproof Rubber Mid Calf Tall Pull On Winter Snow Rain Boots.
Head to the dollar store and grab the biggest RED helium balloon!  Now you are ready to scare the ninny muggins out of everyone you know!
Watch the IT Trailer:
RATING: R for violence/horror, bloody images, and for language.
It is playing in theaters September 8th! Get your tickets and sign up with Dealflicks and purchase discounted tickets and sometimes concessions! You can also refer your family members and get more of a discount! Then use code RFGGTRFLUF at checkout for 20% off your first purchase!