There are 4 S's that I learned about while touring LAIKA! Style, Scales, Sets, and Scenes! All of these things were important to create the new Kubo and the Two Strings movie! During my set visiting we met with Phil Brotherton, Dan Pascall, Oliver Jones, and Steve Emerson who all discussed what it took to create where the puppets and animators performed!

Style: Phil who also talked to us about LAIKA'S New Technology discussed what goes into creating the props that go on set! It is important that everyone constantly reinforced the style! It starts off by doing lots of research and even traveling and photographing everything that might be the movie. Then they begin with the creation of turning a photo into a real and physical object.
Scale: Scale if fun and important to think about in Kubo and the Two Strings. Although they can break scale a little bit because it is a cartoon they have to make it believable! LAIKA made the largest moving puppet ever a HUGE skeleton that we were able to actually see in person! Also, scale is sometimes created by using technology. They might have miniatures of something (scene, landscape, etc.) that is actually filmed really big and then enlarged on part of your screen to create the visual effect that the miniature in relationship to the puppet is much bigger. Kubo's mountain is actually a miniature in the movie!
Scenes: Scenes are created needing several different types of atmospheres. These different environments might be water, sunsets, and more! LAIKA will find physical materials to create these environments and sometimes they do have to create them in CGI but they only use colors and texture pallets of real physical things as if they were done in real life.
Stages: At one point there were over 60 different stages in Kubo and the Two Strings. These stages are real life worlds controlled with people moving, rigors, and even controllers (to me it reminded me of a remote control car on a much larger scale). Check out some of the stages that we learned about:



About Kubo and the Two Strings in theaters August 19, 2016!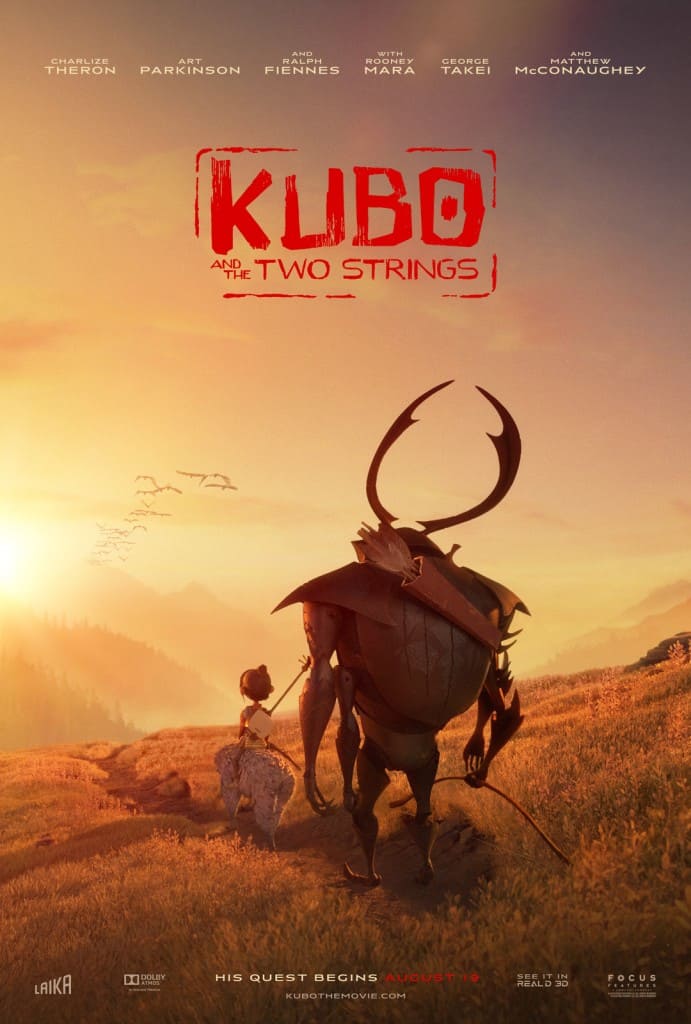 Kubo and the Two Strings is an epic action-adventure set in a fantastical Japan from acclaimed animation studio LAIKA. Clever, kindhearted Kubo (voiced by Art Parkinson of "Game of Thrones") ekes out a humble living, telling stories to the people of his seaside town including Hosato (George Takei), Akihiro (Cary-Hiroyuki Tagawa), and Kameyo (Academy Award nominee Brenda Vaccaro). But his relatively quiet existence is shattered when he accidentally summons a spirit from his past which storms down from the heavens to enforce an age-old vendetta. Now on the run, Kubo joins forces with Monkey (Academy Award winner Charlize Theron) and Beetle (Academy Award winner Matthew McConaughey), and sets out on a thrilling quest to save his family and solve the mystery of his fallen father, the greatest samurai warrior the world has ever known. With the help of his shamisen – a magical musical instrument – Kubo must battle gods and monsters, including the vengeful Moon King (Academy Award nominee Ralph Fiennes) and the evil twin Sisters (Academy Award nominee Rooney Mara), to unlock the secret of his legacy, reunite his family, and fulfill his heroic destiny.

Director: Travis Knight
Writers: Marc Haimes and Chris Butler ("ParaNorman")
Voice Cast: Art Parkinson, Charlize Theron, Ralph Fiennes, Rooney Mara, George Takei, Cary-Hiroyuki Tagawa, Brenda Vaccaro, and Matthew McConaughey
Watch the newest trailer below:
Read more Kubo stories on the blog soon!