Molly's Game will have a Kansas City Advanced Screening! This is a possible Oscar nominee! We have tickets to give away for this screening!  If you haven't watched the trailer be sure to check out below.  Jessica Chastain stars in this movie and there is a really strong cast in this movie!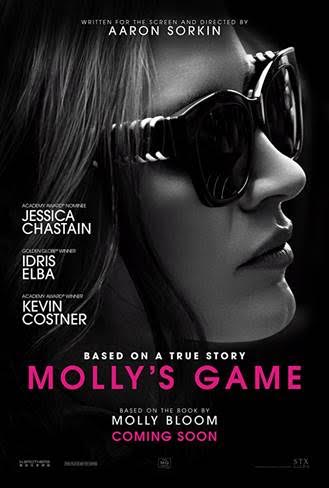 About Molly's Game
MOLLY'S GAME is based on the true story of Molly Bloom, an Olympic-class skier who ran the world's most exclusive high-stakes poker game for a decade before being arrested in the middle of the night by 17 FBI agents wielding automatic weapons. Her players included Hollywood royalty, sports stars, business titans and finally, unbeknownst to her, the Russian mob. Her only ally was her criminal defense lawyer Charlie Jaffey, who learned that there was much more to Molly than the tabloids led us to believe.

RATING: R for language, drug content and some violence
Molly's Game Kansas City Advanced Tickets
Monday, December 18th
B&B Shawnee 18
7:00PM
**Please only request tickets if your calendar is free. If for some reason you are unable to attend you can not reserve seats for other people. Be sure to cancel if you can't attend because something comes up. This opens up tickets for our other readers and for those who are on a waiting list.
**Don't ever trade or barter your tickets. You can share THIS blog post to your friends to reserve their own seats. Do not post and try to trade tickets in online forums ever. We want to make sure our readers get to go on our tickets. 🙂 Thank you!**
Sign up for tickets HERE!
*Did you get emailed before this post went live?  If not, you might not be on our exclusive email list.**
We had to start our e-mail list over from scratch.  Be sure you have subscribed again (if you were already on it).
If you are in KC and want me to e-mail you free movie passes, giveaways, and information on local entertainment please be sure to subscribe to my **NEW** e-mail!  Those who have subscribed get first dibs usually on tickets and giveaways! Subscribe HERE.  Now since you have subscribed, be sure to fill out the form for your official entry!
Watch the trailer: