Murder on the Orient Express
Review by Myla Tosatto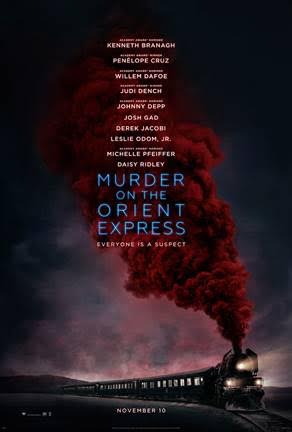 I have never been a fan of Kenneth Branagh. He doesn't just "act". He "ACTS". He is a Thespian with a capital T. He doesn't just chew his scenery, he chews all the scenery in the entire movie and the one that has just begun filming on the same set. Since he not only stars in and directs this picture, I was a bit nervous going into Murder on the Orient Express. Turns out, I shouldn't have been hesitant. Kenneth Branagh was perhaps born to play Agatha Christie's most favorite protagonist, Hercule Poirot. Poirot is over the top and it works in the viewer's favor to have Branagh at the helm.
Murder on the Orient Express is a classic whodunit that takes place on a train 1934. One person is murdered and 12 people are suspected. Poirot is tasked to find the murderer amongst the trains passengers: Mary Debenham (Daisy Ridley), Dr. Arbuthnot (Leslie Odom Jr.), Bouc (Tom Bateman), Biniamino Marquez (Manuel Garcia- Rulfo), Pilar Estravados (Penelope Cruz), MacQueen (Josh Gad), Ratchett (Johnny Depp), Masterman (Derek Jacobi), Count Andrenyi (Sergei Polunin), Countess Andrenyi (Lucy Boynton), Pierre Michel (Marwan Kenzari), Mrs. Hubbard (Michelle
Pfeiffer), Princess Dragomiroff (Judi Dench), Frau Schmidt (Olivia Coleman), and Gerhard Hardman (Willem Dafoe).*
The movie is lush and gorgeous and moves at a brisk pace. It would be a perfect film to take in with the family after enjoying a holiday dinner. Though it is a drama, plenty of chuckles are to be had from time to time. The movie will satisfy tastes of many ages and generations.
*As to not give away any spoilers, there is some misdirection here. Hope you don't mind.
Murder on the Orient Express is NOW playing in theaters!
Purchase discounted tickets by using
Dealflicks.com
! Feel free to save an additional 20% by using the code RFGGTRFLUF at checkout!