I was honored, thrilled, humbled, and excited to be a part of the press event in New York for the new ANNIE movie! During this special event I had the opportunity to interview some of the amazing cast members including ANNIE played by the beautiful and talented 11-year-old girl, Quvenzhané Wallis! I grew up on the movie ANNIE. I knew the songs, the movie, the story, the outfits, and more. This generation doesn't know ANNIE. It is a beautiful and amazing movie and story. Rather than creating another Annie set in the 1930s, the new ANNIE sticks to these modern times.
The new ANNIE movie is another story and another movie. It is for the new generation. It is a movie for the kids and for families. My daughter might only be five years old but teenagers today often tell their parents, "that isn't what WE do now…that isn't what we say…etc." Will Smith and Jay Z's company bought the ANNIE rights to do the movie and Sony made the magic happen! Our kids and our generation will finally KNOW who ANNIE is and they are going to be able to relate to the movie. It is their language, their times, and their technology.
My initial reaction to the movie was that "I just can't wait to go home and hug my children and let them know how much I love them!" This movie is about family, relationships, love, and never giving up! You are going to leave the theaters with songs in your head, a pep in your step, and most importantly love in your heart. I got teary eyed hearing all of the songs that I once sang as a kid!
If I had to give this movie a grade it would be an "A"! By making another ANNIE, I believe that you help bring the old story to life. You begin relearning about family and love. Lets love this new Annie referred to as "Annie B." lets also love the old Annie. SPOILER alert: You will get to see a little of traditional and new ANNIE in the film.
A Broadway classic that has delighted audiences for generations comes to the big screen with a new, contemporary vision in Columbia Pictures' comedy Annie. Director/Producer/Screenwriter Will Gluck teams with producers James Lassiter, Jada Pinkett Smith & Will Smith, Caleeb Pinkett, and Shawn "JAY Z" Carter, Laurence "Jay" Brown, and Tyran "Ty Ty" Smith with a modern telling that captures the magic of the classic characters and original show that won seven Tony Awards. Celia Costas and Alicia Emmrich serve as Executive Producers. The screenplay is by Will Gluck and Aline Brosh McKenna, based on the musical stage play "Annie," book by Thomas Meehan, music by Charles Strouse, lyrics by Martin Charnin, and on "Little Orphan Annie," © and ® Tribune Content Agency, LLC.

Academy Award® nominee Quvenzhané Wallis (Beasts of the Southern Wild) stars as Annie, a young, happy foster kid who's also tough enough to make her way on the streets of New York in 2014. Originally left by her parents as a baby with the promise that they'd be back for her someday, it's been a hard knock life ever since with her mean foster mom Miss Hannigan (Cameron Diaz). But everything's about to change when the hard-nosed tycoon and New York mayoral candidate Will Stacks (Jamie Foxx) – advised by his brilliant VP, Grace (Rose Byrne) and his shrewd and scheming campaign advisor, Guy (Bobby Cannavale) – makes a thinly-veiled campaign move and takes her in. Stacks believes he's her guardian angel, but Annie's self-assured nature and bright, sun-will-come-out-tomorrow outlook on life just might mean it's the other way around.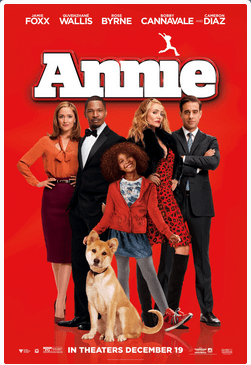 The new Annie Movie will be released in theaters on December 19, 2014! Take your family to see it! I would definitely take my 5 year old. There was one bad word in it but I think it would go over her head.
Be sure to checkout my to interviews that I had while in New York, one was with Cameron Diaz and Bobby Cannavale. The other interview was with Jamie Foxx, Will Gluck, and Quvenzhané Wallis.
I loved the movie!