Ocean's 8 Quotes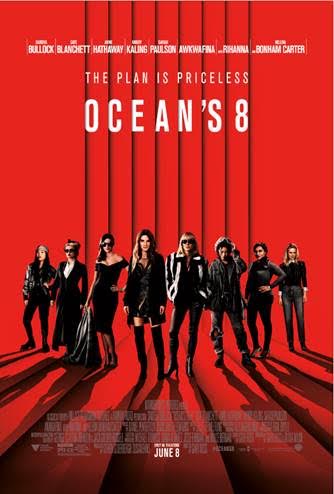 Check out all of Movie Myla's favorite Oceans 8 Quotes from reviewing the film. Myla Tosatto's list is below. We are hoping you have seen the movie already in case of any spoilers that might be sprinkled into the mix. ENJOY, and comment below with any quote updates!
"My brother, may he rest in peace, was a criminal,"- Debbie Ocean (Sandra Bullock) to parole board officer
"If I were to be released, I would just want the simple life."- Debbie
"Nice watch."- Prison Guard (Deidre Goodwin)
"It's my brother's."- Debbie
"Did he give it to you?"- Guard
"Stole it."- Debbie
"I have 45 bucks, I can go where I want."- Debbie
"I want vodka and water. You want to know why?"- Lou (Cate Blanchett) running a booze scam
"Why?"- April (Midori Francis)
"Because when you're drunk, it tastes like vodka."- Lou
"You better be in there."- Debbie talking to Danny's grave
"Look, Deb. Just knowing the job will work is enough."- Reuben (Elliott Gould)
"That's my 'I've been in jail for five years and my partner let me down' face."- Debbie to Lou
"You look. . ."- Claude (Richard Armitage)
"Recently incarcerated."- Debbie
"We're not robbing a museum. We're robbing someone in a museum."- Debbie
"That was. . ."- Debbie
". . .just gorgeous."- Lou
"Hmm mmm."- Debbie to Rose Weil (Helena Bonham Carter)
"Are there any hackers who aren't Russian?"- Debbie
"No. There are barely any Russians who aren't hackers."- Lou
"So, Nine Ball, do I call you Nine?"- Debbie
"I sweat."- Rose
"Don't"- Lou
"You said she was a relic."- Assistant about Rose Weil
"I meant iconic."- Daphne Kluger (Anne Hathaway)
"Really? Three card Monte?"- Debbie about Constance (Awkwafina)
"A 'him' gets noticed. A 'her' gets ignored."- Debbie
"You're not bored out here, Tam Tam?"- Debbie to Tammy (Sarah Paulson)
"How do you explain all this to your husband?"- Debbie about all of the stuff Tammy is fencing
"Ebay."- Tammy
"You don't have a Metro Card? You a tourist?"- Constance to Debbie
"Oui."- Amita (Mindy Kaling) after a very long passage in French by Rose
"She must have the sun."- Amita to the Cartier people
"There it is. Hello, sexy."- Nine Ball (Rihanna)
"You have one of the greatest necks in the world."- Rose to Daphne playing on her vanity
"Why do you like him?"- Constance about a guy on Tinder
"He looks kind."- Amita
"Hey, boo."- Nine Ball after finding her mark
"There's only one Leo."- Rose about Leonardo DiCaprio
"Money was good and he was great in the kitchen."- Debbie on why she liked Claude
"You don't run a job in a job."- Lou to Debbie
". . . now I'm in a curtsey standoff with the Queen of England. "- Daphne
"Aren't we posh?"- John Frazier (James Corden)
"He busted my brother once. My father twice."- Debbie
"He's family."- Lou about Frazier
"Now that I'm here, it's bloody exhausting."- Frazier
This post contains affiliate links, which earn us a small commission if you choose to make a purchase through our links. Oceans 8 is now playing in theaters! Be sure to purchase your tickets today through Fandango.com!