Oceans 8 Review
Myla Tosatto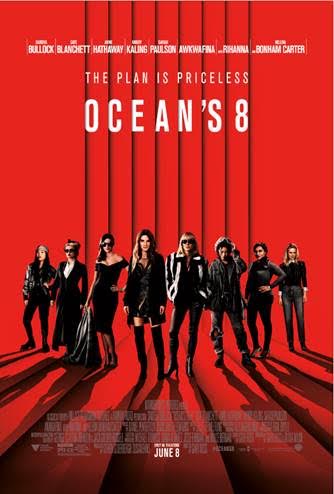 Ocean's 8 isn't really a sequel to Ocean's Eleven, Twelve, and Thirteen. It's a continuation of the caper stories Steven Soderbergh started in 2001. The style, pace and tone of Gary Ross' (and screenwriter Olivia Milch) new movie is true to the original trilogy, even if the genders have been swapped. But when you have Sandra Bullock and Cate Blanchett, do you really need George Clooney and Brad Pitt?
Bullock plays Debbie Ocean, sister of George Clooney's character, Danny Ocean. Debbie and her partner, Lou (Blanchett), decide to pull off a major heist by robbing a Cartier necklace off of actress Daphne Kluger (Anne Hathaway) at the Met Gala. They enlist Rose (Helena Bonham Carter) to dress Daphne, Amita (Mindy Kaling) to remake the necklace, Nine Ball (Rihanna) for hacking, Constance (Awkwafina) for slight of hand, and Tammy (Sarah Paulson) for fencing. Add in James Corden (John Frazier) for laughs and you have a fun summer movie!
There are LOTS of surprises (it IS a topsy turvey escapade movie, after all). I won't spoil them for you. But I will say that I LOVED Hathaway playing the vapid Daphne. I also got misty when many of our older sisters whom Hollywood seems to have forgotten showed up. And you should have heard the women gasp when Rihanna shows up to the ball (hot isn't even the word to describe her in that red dress. Scorching? Speechless).
Celebrate all this girl power by cracking open the Veuve Clicquot and seeing Ocean's 8 (Movie Myla looks for any excuse to sip some Veuve). Then, to continue the party, watch the original movies. They're fun and a good way to beat the summer heat. Do not celebrate it by planning a heist. I don't care how good you look in black and how well you run in heels. Don't do it.
This post contains affiliate links, which earn us a small commission if you choose to make a purchase through our links. Oceans 8 is now playing in theaters! Be sure to purchase your tickets today through Fandango.com!