Looking for something fun to do tomorrow, April 12th? Check out the Rampage Cinetransformer Multi-City "Big, Bigger, Biggest" First Look Tour! This custom branded truck is a limited-time only traveling experience. The Rampage Cinetransformer Tour is traveling to 7 major cities in the US leading up to the nationwide release of "Rampage" on April 13th, 2018. The giant trailer is jam-packed with classic games, including Dave and Buster's "Rampage" game that inspired the film.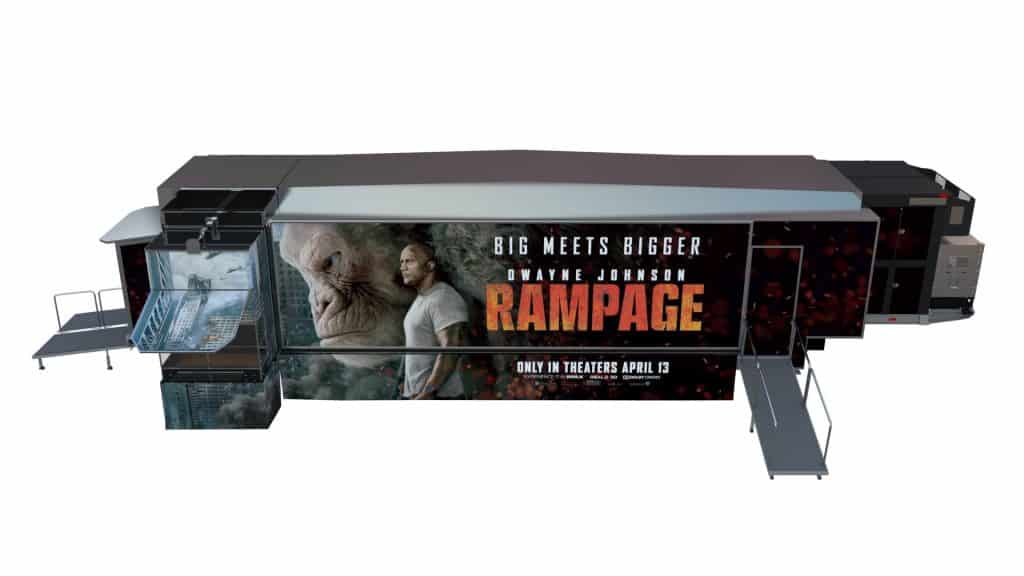 When on the trailer, you get the chance to win prizes, sample "Rampage" virtual reality, participate in photo opps, apply custom tattoos, and watch the trailer! You don't want to miss this awesome opportunity to have lots of fun and celebrate the release of "Rampage"! If you haven't heard of the film, here's a little more about it:
The action adventure "Rampage" stars Dwayne Johnson, Naomie Harris, Malin Akerman, Jake Lacy, Joe Manganiello and Jeffrey Dean Morgan.  Primatologist Davis Okoye (Johnson), a man who keeps people at a distance, shares an unshakable bond with George, the extraordinarily intelligent, silverback gorilla who has been in his care since birth.  But a rogue genetic experiment gone awry mutates this gentle ape into a raging creature of enormous size.  To make matters worse, it's soon discovered there are other similarly altered animals.  As these newly created alpha predators tear across North America, destroying everything in their path, Okoye teams with a discredited genetic engineer to secure an antidote, fighting his way through an ever-changing battlefield, not only to halt a global catastrophe but to save the fearsome creature that was once his friend.
The Rampage Cinetransformer Tour will be at the AMC Legends 14 at 1841 Village West Parkway (in the parking lot by Chiusano's Pizzeria and Fuddruckers) in Kansas City! It will be open to the public from 2 to 8 pm. The event is on a first come, first serve basis so make sure to go early and get a spot! This is an event you won't want to miss!