I sent contributor, Staci, from http://www.7onAShoeString.com to visit Red Gold Tomatoes Farm Tour and share her experience! She shares her story below!

As you drive through the farm country of Indiana, you begin to understand more about the lifestyle Red Gold Tomatoes prides itself on. Community, family, and excellence in quality are all part of the Red Gold way… and it's apparent in every aspect of their company.
Red Gold Tomatoes
On a recent visit to Red Gold Tomatoes, we began with a stop at one of their family farms. They have 53 farmers who cultivate, grow and harvest their tomatoes. Not only does Red Gold maintain a working relationship with each of these farmers, but they know them by name. The CEO (who even joined us on our tour) actually has a face-to-face relationship with the men, women and children who work to grow their Red Gold Tomatoes.
Speaking of the farmers, they work diligently to grow the best, most brilliant red tomatoes in order to bring them fresh to your table. And when Red Gold says "farm to table" they mean it. Once a tomato is harvested, sent to the plant, processed from beginning to end, it can literally be sitting on a store shelf within 8 hours! Wow, right? You simply cannot get a product more fresh than that!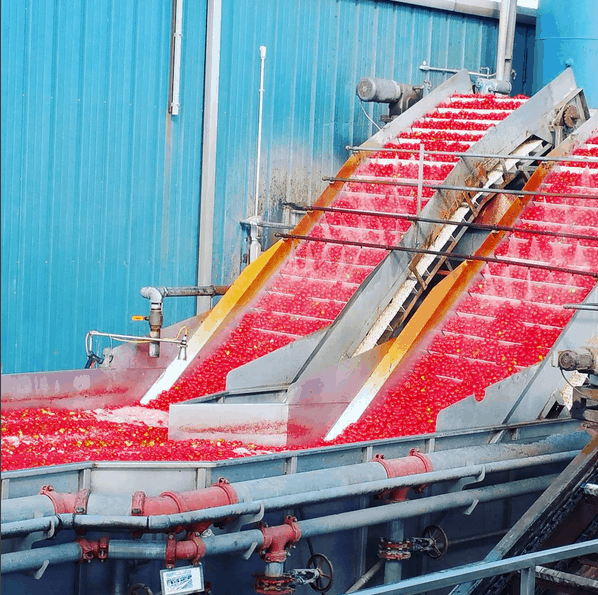 In addition to being farm-to-table fresh, Red Gold Tomatoes has also recently launched their new product labels. Why is this a big deal? Because the labels reveal more about the goodness and quality of the tomatoes, as well as the company itself. Their products are 100% natural, non-GMO verified, and their can liners are BPA free.
Not to mention, they make sure to make the most out of each tomato harvested. Tomatoes not quite suitable for peeling may become fertilizer for the farmers' fields, whereas the discarded peels turn into animal feed. Red Gold firmly believes in sustainability and it's apparent in everything they do.

After visiting with the CEO, his wife, their sons, the farmers, and the incredible community of Elwood, Indiana, I can truly say I have a whole new respect for the brand and the product. No longer will it simply be can of tomatoes or bottle of ketchup. The Red Gold label will mean much more than that. It will now encompass the community, family, and excellence in quality I experienced during my stay in Indiana.