During the Mary Poppins Return Press Junket there was something that every single interview from the cast and crew had in common. They all talked about how positive and wonderful Rob Marshall is and how all he did was give positivity and compliments all day long to everyone. They talked about how talented he is as a director, but they raved about him as a person.


Mary Poppins Returns is just a very positive and uplifting movie and Rob Marshall was the perfect choice for the film. When I had to opportunity do a Rob Marshall Interview for Mary Poppins Returns it was so amazing. Literally Rob Marshall shows so much emotion but at the same time he is just so happy and he is always smiling. I learned so much about him during the interview!
Rob Marshall Interview – Mary Poppins Returns Event
Rob walks into the room and he starts off complimenting the previous night screening and complimenting James Corden who was at the screening the previous night.
Then he starts thanking us before we have a chance to get any questions out. He shared that he was just telling his publicist that being interviewed by us (moms) is his favorite moment of the day. Just a truly positive man! If Mary Poppins Returns wasn't the perfect movie for him to direct, then I am not sure what is.
So how do you convince your Actors that everything is possible even when they're scared of heights? When they don't consider themselves Singers or Dancers in other films that you have made?
Rob: "You know it's sort of interesting when I work with Actors I really find they need to feel positive reinforcement you know and it's such a simple thing to do. It's like being a really good parent you know. And I try and achieve that when we're working you know. For instance, I mean as an example Ben Whishaw, who plays Michael Banks, he's never sung before you know. He was sort of nervous about how do you do that and I always feel that people can do so much. It's just feeling that they can and knowing that they can. I like to protect them in rehearsals when– you know we had over 2 months of rehearsal. So it was during that time that you know you can fail and be bad you know and then learn to get better and, and not feel judged. That's a really important thing…."
You've mentioned that at 23 Expo that you had found the original table from the first movie? Did you use any other props from the first film? (Rob: "I love that you know that!") Maybe like the umbrella or any like that?
Rob: "Well we– you know here's the thing, I visited the Disney archives. They didn't really have the archives in the 60's, not much, there's some. What there is I saw so you remember the blocks from Mary Poppins? We replicated the blocks. They didn't gonna' give us the blocks, but we replicated the blocks. They're in the attic if you look. Also the snow globe you know. We replicated that as well. So the only real thing is that table in the front hall, which I saw at Club 33 at Disneyland and I said, "That's in the movie if the let us have it" and they did. So that was really moving to me, but you know and the kite of course we replicated that…."
Could you please tell me how it was to work with Dick Van Dyke? Do you have any funny stories about Dick?
Rob: "He's su'um else. I mean there's no one like him. I was so excited and nervous to even call him to ask him to do this you know because he's a hero for me you know. I mean and that's the Dick Van Dyke Show for me honestly. Chitty Chitty, Bang Bang you know all of it. Bye Bye Birdie, all of it, so you know talking to him he just disarms you immediately. He's so joyous and it's just sort of who he is and he said yes so quickly. He wanted to be part– he was excited to be part of it. And when he came onto the set he honest to God grabbed my arm as we were walking on. He said, "I feel the same spirit here on this set that I did you know in the first film." And I thought okay well that's everything. That's all I need to hear. That was everything for me to hear that from him.
About the magical bath tub scene and PL Travers.
Rob: "Well it's her first adventure you know. She arrives and so you have to look for something. You know the great thing about the PL Travers books is that even though there's no narrative to any them they're all just episodic. It's all about taking an ordinary everyday event and turning it into something magical. An adventure that's fun and even you know cleaning up your room turns into an adventure in the first film right? So I was looking for something that kids hate and it's taking a bath…It's not from a bathtub, but there is an underwater adventure in one of the Poppins books. There are 8 of them. And so I thought well we could use sort of the feeling of the PL Travers underwater and then I came up with this idea of her seeing all the people from the neighborhood below the water you know as they're moving through and trying to open the eyes of these kids that have grown up too fast, been forced to become adults too quickly."
The animation sequences were amazing and beautiful and so clean. And I just wanna' know about the process 'cause I can imagine it was ridiculously challenging.
Rob: "Thank you for asking about that really because that was the most challenging part of the whole filmmaking and it's the first thing we shot, right away, because the Animators– you know it's all hand drawn animation, every frame. So we needed to get that material to the Animators right away. And the reason our post production was I think close to 14, 15 months was because of the hand drawn animation. They needed that time. So I mean it's that thing. Can you imagine flip, flip-draw, draw? That crazy– it's so hard. I went and visited them. You know I would say the majority of them came out of retirement to do this. It's kind of a lost art, although I have just to say I was somewhat hopeful because a lot of the Artists there really were also in their 20's who were more interested in working on the hand drawn animation than the computer generated work. So that was really good.
About some more art from the illustration scenes.
Rob: "You know the Flamingos. I don't know if you remember the little Flamingo, that's all choreographed with women that we–
You know 'cause I wanted to be able to control the choreography of even that. So the layers of it were so complicated you know. You walk into a huge green room and everybody's– you know I'm trying to pretend that they're in a carriage."

Mary Poppins Returns will be playing in theaters on theaters on December 19th!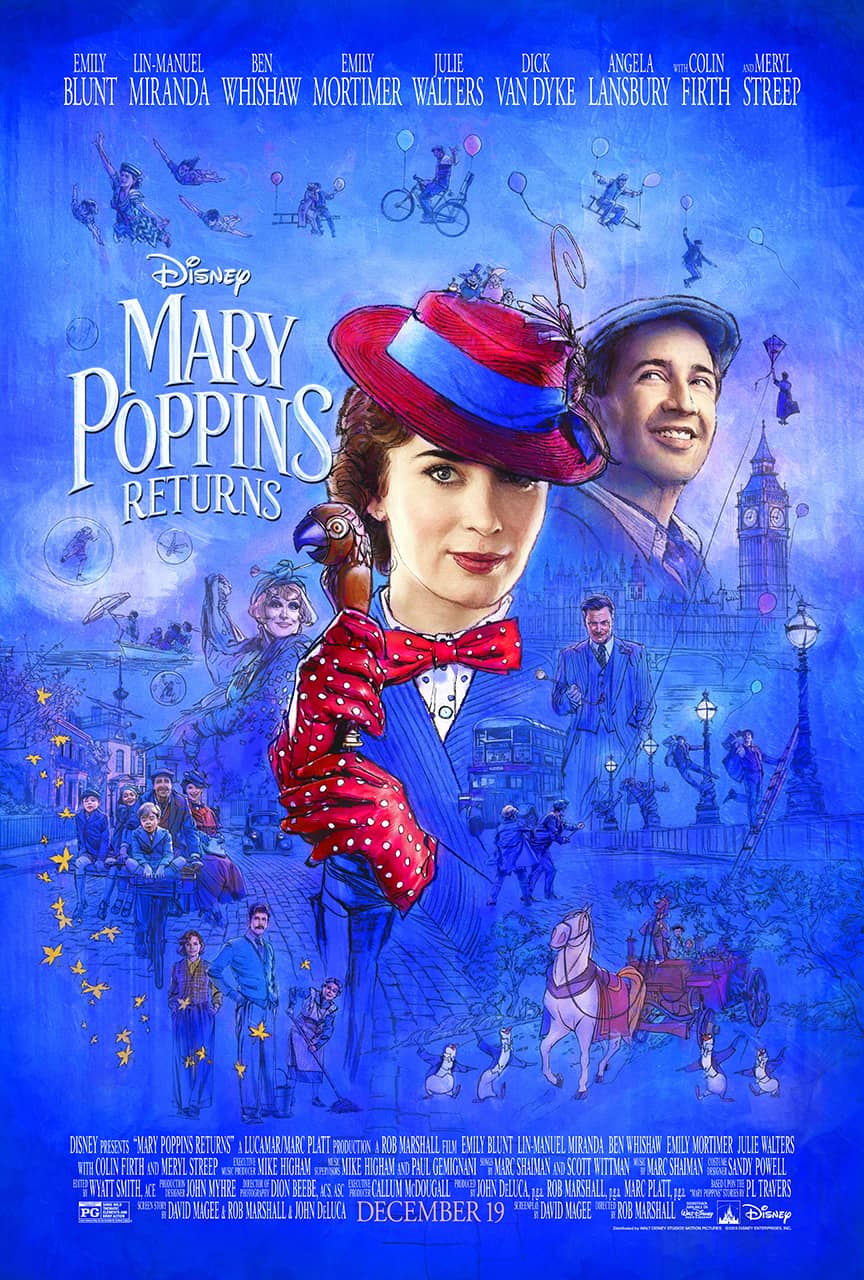 In Disney's "Mary Poppins Returns," an all new original musical and sequel, Mary Poppins is back to help the next generation of the Banks family find the joy and wonder missing in their lives following a personal loss. Emily Blunt stars as the practically-perfect nanny with unique magical skills who can turn any ordinary task into an unforgettable, fantastic adventure and Lin-Manuel Miranda plays her friend Jack, an optimistic street lamplighter who helps bring light—and life—to the streets of London.