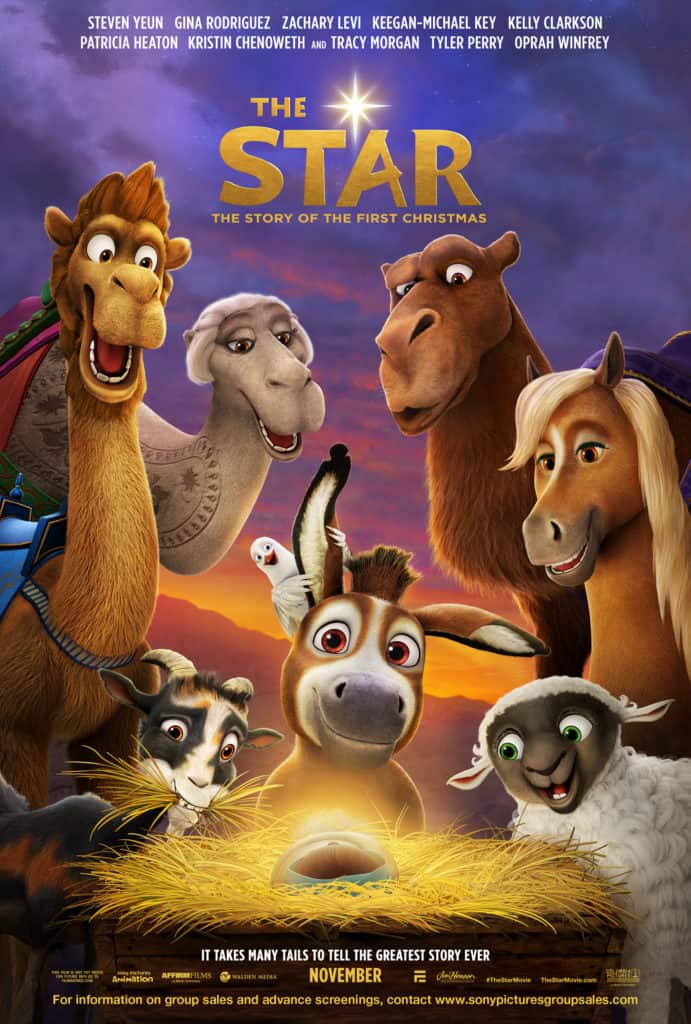 Sony has their own little Christmas Miracle this year!  They are filling the screen with cute animals, a huge star studded cast, and lots of holiday magic!  I am excited to help promote this screening here in Kansas City with some free advanced screening tickets! These tickets are first come, first serve and you won't want to miss out!
In Sony Pictures Animation's The Star, a small but brave donkey named Bo yearns for a life beyond his daily grind at the village mill. One day he finds the courage to break free, and finally, goes on the adventure of his dreams. On his journey, he teams up with Ruth, a loveable sheep who has lost her flock and Dave, a dove with lofty aspirations. Along with three wisecracking camels and some eccentric stable animals, Bo and his new friends follow the Star and become unlikely heroes in the greatest story ever told – the first Christmas.
Saturday, November 11
11:00 AM
Town Center 20
Sign up for your family 4 pack of tickets today!
Since passes are limited, if for any reason you score passes and are unable to attend please cancel your free reservation to make room on our waiting list! We want to fill the theater for sure to help spread the joy of Christmas right before Thanksgiving!
**NEW** Kansas City Exclusive E-mail List for Enza's Bargains
We had to start our e-mail list over from scratch.  Be sure you have subscribed again (if you were already on it).
If you are in KC and want me to e-mail you free movie passes, giveaways, and information on local entertainment please be sure to subscribe to my **NEW** e-mail!  Those who have subscribed get first dibs usually on tickets and giveaways! Subscribe HERE.  Now since you have subscribed, be sure to fill out the form for your official entry!