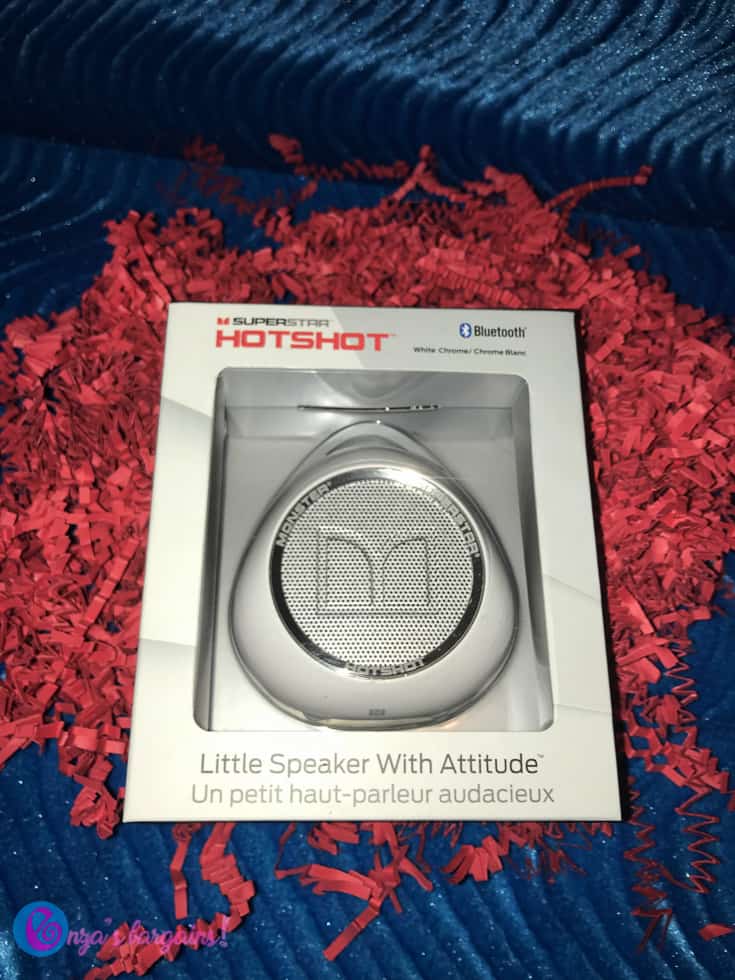 SuperStar HotShot Portable Bluetooth Speaker is a great gift for your tech lover! This small speaker is tiny, lightweight, and really powerful! This post might also contain affiliate links which may earn us a small percentage to help cover our expenses if you choose to make a purchase.
The SuperStar HotShot comes in a variety of colors! We love our white and chrome one!
It's the HotShot; the most compact of Monster's SuperStar line of portable wireless speakers. While small enough to clip to a backpack, jacket or belt loop, the HotShot packs a sizeable punch with portable Pure Monster Sound®. You and your friends can take the music anywhere: the park, beach, hiking, cycling, or just chilling or grilling. Virtually no limits. It's rugged, tough and very easy to use — with NFC Tap 2 Pair feature — super portable, with carabiner clip included, and long 5.5 hour play life. And HotShot is also a great speakerphone!

•The smallest of our SuperStar products
•NFC Capable – Simply Tap to Pair Bluetooth with NFC Compatible Devices ​
•Speakerphone for conference calls ​
•1/8″ (3.5mm) Stereo Analog Input to Connect any Audio Source​ (cable not included)
•Bluetooth Audio Streaming from your Mobile Player for Untethered Wireless Freedom ​
•Includes carabiner to easily hook onto a belt, backpack to virtually anywhere you go
•3 1/2″ H x 3″ W x 1 7/8″ D
•1 year warranty
You can check out all of the other colored speakers here! Also check out our other Monster Firecracker product in this year's gift guide!
Be sure to check out the UPDATED Holiday Gift Guide Items this year for 2017!

[catlist id=225 thumbnail=yes numberposts=50 template=enza]