The Happytime Murders Review
Myla Tosatto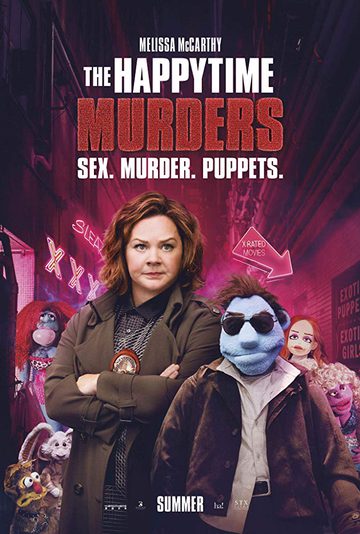 Let me just start with this: DO NOT TAKE YOUR CHILDREN TO SEE THIS MOVIE. Again, I repeat: DO NOT TAKE YOUR CHILDREN TO SEE THIS MOVIE. And for the people in the back texting, talking and not paying attention: DO NOT TAKE YOUR CHILDREN TO SEE THIS MOVIE. Yes, there are puppets. Yes, they look suspiciously like Muppets. They even sound familiar like Elmo, Doctor Teeth, Pepe and Rolf. But there is a reason that the tagline for the movie is No Sesame- All Street. DO NOT TAKE YOUR CHILDREN TO SEE THIS MOVIE. It is naughty. But naughty makes it a fun and brisk comedy that will leave you in stitches (see what I did there?).
Brian Henson (YES, he IS related) directs this hilarious film from a script by Todd Berger. Henson has a lot of authority when it comes to puppet movies having directed Muppet Treasure Island and Muppet Christmas Carol. This makes for some smooth comedy interactions with the human actors like Melissa McCarthy (Connie Edwards), Elizabeth Banks (Jenny), Maya Rudolph (Bubbles), Leslie David Baker (Lt. Banning) and Joel McHale (Agent Campbell). The movie really belongs to the puppets, though. Especially Phil Philips (Bill Barretta). The screen time Phil shares with Connie and Bubbles is especially great.
This is a traditional noir detective flick. Phil is a hardboiled gumshoe in LA. He teams up with his former police partner, Connie, to solve the murder of the cast of a TV sitcom, The Happytime Gang. There are gangs, sex, hot tubs, ghastly puppet murders, disturbing use of Silly String, and sugar highs. So maybe not so traditional? Maybe more like if Avenue Q and Who Framed Roger Rabbit? met and had a baby?
The thread (I am PUNNY!) here is that summer's guilty pleasure comes wrapped in blue felt and sporting googly eyes. You'll laugh. You may not feel great about it, but you'll laugh!