The Upside Review
by Myla Tosatto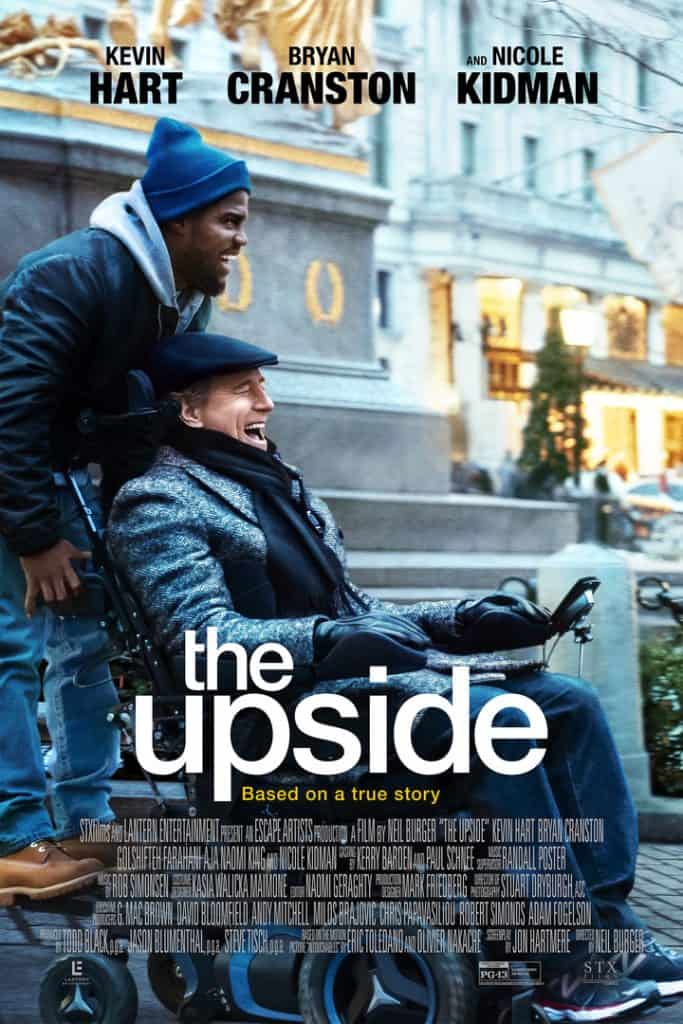 Remember all of those great movies from the 70's and 80's that seemed like comedies but were dramas at heart?   They were funny but with an undercurrent of sadness running through them. The kind of movie that the terms "dramedy" and "buddy comedy" were made up for. The Upside is one of those movies. It is a laugh out loud delight with just enough emotional punch to make you feel slightly bad about laughing (not that bad, mind you).
Philip (Bryan Cranston), a paraplegic, hires ex-con Dell (Kevin Hart) on sight to be his care giver. Dell possesses no skills to be a caregiver.   Does Philip hire him because he likes his attitude or sees something deep inside his character or does he hire him because he knows that Dell lacks proficiency to handle Philip's day to day existence and Philip is seemingly okay with giving up? Director Neil Burger wisely lets the audience decide. He also wisely puts the movie in the hands of Cranston and Hart who not only have the comedy chops to pull off this tricky tale but also the dramatic gravitas (I would say I couldn't imagine this movie working with any other actors but this is the fourth retelling of this story!*). Nicole Kidman, Golshifteh Farahani, Julianna Margulies and Tate Donovan round out the cast but the movie is all Cranston and Hart.
Obviously, this movie comes with baggage. SO much baggage. Baggage that happened in 2017 and 2018. Baggage that is happening now. Movie Myla doesn't want to get into all of that. If you can get past it, I highly recommend The Upside. If you can watch a movie without thinking of the offstage drama or opinions of filmmakers and actors, you are in for a real treat.
*   Apparently, the French original, The Untouchables, is supposed to be incredible. If you get a chance, see it!
The Upside is now playing in theaters.