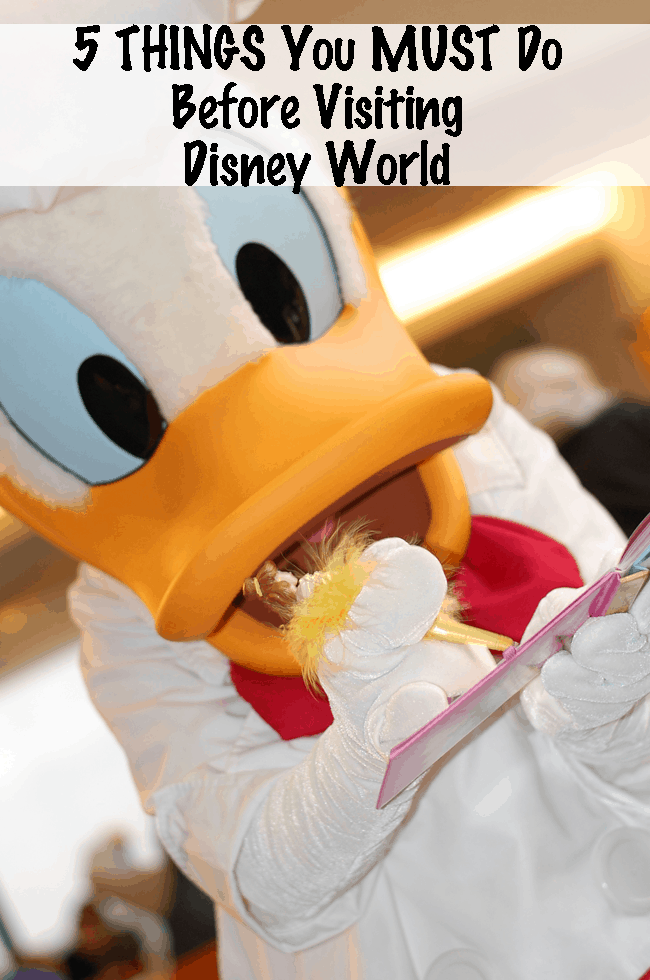 Our first trip to Disney World was amazing…but we really screwed it up! Let me start by saying my hubby did an amazing job. I wish we had a "Things To Do Before Going to Disney" List! He planned the trip and paid for it without me knowing. One day I got home from teaching and he had completely made over the entire house. Redecorated the Christmas tree, hung new stockings, had presidents all wrapped under the tree and had our 1 and a half year old wearing an "I'm Going To Disney World!" tee shirt! He handed me two huge books and said he hasn't planned anything for when we're there because he wanted me to have the trip that I want to have…this was the only mistake he made.
Don't get me wrong it was a ton of fun, but we were aimless and confused the entire time we were on the Disney property. IT IS GINORMOUS!!! Our traditional vacation goal is to walk around and get a feel for the place and then go back and do what we want to do, THIS WILL NOT WORK AT DISNEY WORLD! And at the end of the trip we had spent a fortune…but we learned a ton!
Things to Do Before Going to Disney
Order The FREE Custom Maps
Disney is expensive, but they have tons of freebies throughout the trip and even ahead of the trip! The custom maps are absolutely awesome, and will save you tons of time once you get to the parks. Ahead of going to Disney you can schedule meals and fast passes. These custom maps will come with those mapped out for you. And they're beautiful big maps, a great souvenir at the end for the kiddos.
Saving time is a huge deal at Disney World because you are going to have a ton of things you can do and if you spend hours wandering and searching for things you'll miss so much! Saving money is tricky but there are tons of ways to do just that and still get plenty of souvenirs for the kids, with that in mind go into the trip embracing the pin trading practice.
Pin Trading For Beginners
It was our second trip that I decided to get into pin trading. We got to Disney World and bought a starter set, I wanted a special lanyard and a pouch to keep the pins in, by that point we were almost $50 into this. And I only had 5 pins to trade. So what do you do when you have five you don't want to trade? BUY MORE PINS!
It's a vicious circle, but it doesn't have to be…go find a huge bundle of pins on eBay.  Don't worry about getting a bunch of duplicates, it doesn't matter you're going to trade them. You can pick up 100 pins for about 40 bucks. Then you start the day with ten or so and go trade them. Any Disney employee wearing pins will trade and they can't turn you down. So if you see one you love you give them one of yours and they give you the one you want. Your kids will love it! And you'll love coming home not having to have spent a small fortune for them to be satisfied. Speaking of satisfied, don't spend the fortune you just saved on souvenirs on snacks once your inside the park. Plan ahead, and get the things you actually want to eat.
Garden Grocers Will Save You Bundles and You'll Get YOUR SODA
Garden Grocers is so easy it really doesn't make any sense to not use them while at Disney. They will deliver the groceries you pick to your hotel who will keep them for you until you arrive. I'm a big Diet Dr. Pepper fan, and this is a lifesaver for that! Not an easy soda to find, and if you're a soda drinker you know how important your soda is, especially in the morning.
Disney allows you to bring your own food and drink into the parks with you . So do it, bring the items and drinks you like. Kids won't be eating only junk food and you won't have to settle for something you don't really want. Planning is of the upmost importance to get the most out of your Disney trip.
Download The App
Downloading the My Disney Experience App will give you wait times around you and Character Locations in the parks. From here you can even link up your tickets and passes. This allows you to keep track of all of those meal confirmations numbers in one central place, on your phone! This app is awesome and will help keep you on track to your plans!
Start Saving Now!
No matter how much you can do to save money at Disney and there are plenty of places to save. YOU ARE GOING TO SPEND A BUNCH OF MONEY! Because Disney lives up to the name, it is magic…but magic isn't free. Using some of the tips from above will give you an easy way to save some dough but use that to enjoy Disney. Our family has been very blessed to be able to go several times, but for many a trip to Disney World is a once in a lifetime experience. Don't come back wishing you could have done this or that. If you prepare properly you'll have an idea of what to bring to make sure you're not worrying about your bank account while enjoying Disney World.
Bring an Empty Suitcase
We always roll up the hubby's giant Nike duffle into his luggage. This gives us an entire bag to bring back "stuff." And even if you do the pin trading, you'll end up with a bunch of "stuff." Plan for it so you're not stuck buying a new suitcase there or shipping a bunch of it back.
These are all tips for having a ton of fun at Disney World, but most importantly remember that you're not going to see it all…there's no way!!! So take a deep breath and look around for the detail and beauty that surrounds you no matter where you are in Disney World. And make sure to tell me all about your trip when you get back!!!