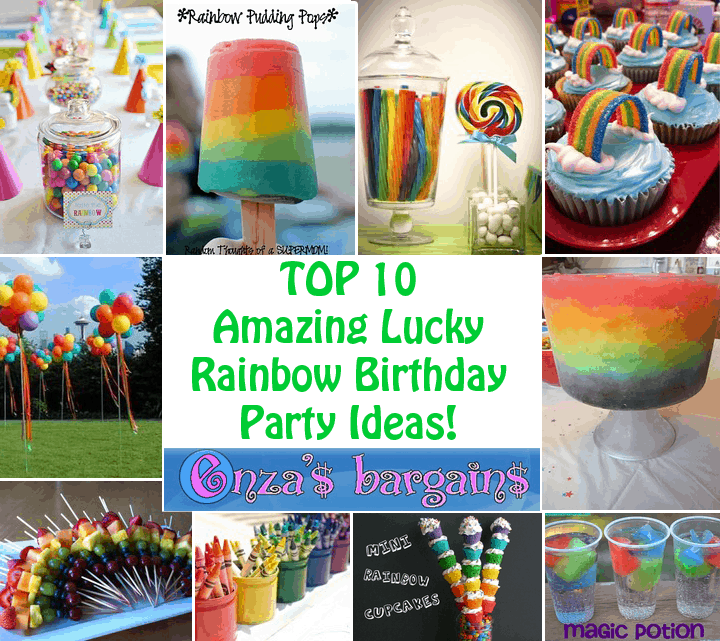 I love planning Birthday Parties! I love themes!  One of the things I LOVE is color so Rainbow Party themes are my favorite!  I love COLOR!  Rainbow Party ideas are my favorite because you can do so much with them! Whether you are wanting a Rainbow Birthday Party, a Crayola Crayon Party, or even a St. Patrick's Day idea party you will be SET!  You can even do a Crayola theme and keep the same goodies and colors that I created.  I decided that I would come with a LIST of 10 Amazing Rainbow Party ideas!  This would be such a cute kids party theme!  I would suggest buying the big roll of white paper to use as a table cloth so kids can draw on it during the party!  MOST of these ideas are really cheap!  Be sure to check them all out!!!  This is a Pinterest inspired post!  Please Repin it and follow me on Pinterest!
To add to this wonderful list below I created my own RAINBOW cupcakes!  Get the Recipe HERE (it is really easy and perfect for any Rainbow Party Ideas that you are looking for!)

Below I provided a list of the favorite ones I found on the internet! These link back to those specific sites and I created a collage in my top picture for them!  Their rainbow party ideas are fun, creative, and really easy to do!  Even my Rainbow cupcake was easy because I had my 5 year old help me create it!  Colorful parties look the best in pictures and are really fun to create!  ENJOY and Happy Celebrating!
Rainbow Party Ideas LIST
Here is the list of rainbow party ideas you can go and look at on your own!