Valerian and the City of a Thousand Planets
Review by Myla Tosatto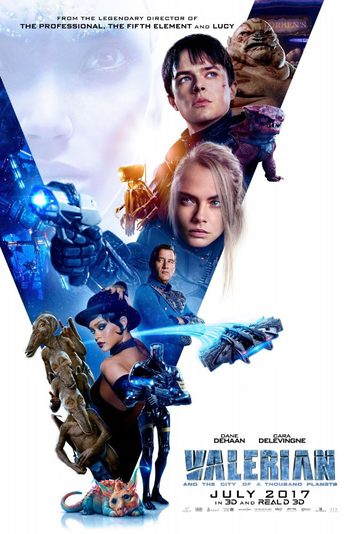 I could write this whole review on how spectacular Valerian and the City of a Thousands Planets looks, so I will. Luc Besson knows how to fill a screen. He wastes no space showing off his visual design. Every last frame is chock full of eye candy. He did it memorably in his classic The Fifth Element and he goes for it again here. As soon as the movie starts, we are greeted with a montage of space, astronauts, and aliens set to the David Bowie's Space Oddity. The audience is strapped in and ready to go. We learn that The Space Station Alpha has been released from Earth's gravity and has become a "planet" all its own. Valerian (Dane DeHaan) and Laureline (Cara Delevingne), members of Earth's military, are sent on a mission to help recover an extinct creature that came from a destroyed planet on Alpha. That's when the fun starts! Along the way, Laureline and Valerian meet Commander Arun Fillit (Clive Owen), Bubble (Rihanna), Jolly (Ethan Hawke), Herbie Hancock (Minister), and Igon Siruss (John Goodman) all being their best and Bessoniest. With all the super minute details in the movie, I would suggest that you go ahead and spring for the 3D.
I imagine that the kiddos would enjoy a break from the heat to see this at the local Cineplex. The movie is rated PG-13. There is mild space opera violence and light sexual suggestions in the movie. There are also complex issues such as war, genocide, extinction, immigration, diversity and preservation but handled in a less deliberate way that will make kids aware but will not upset them.
Reserve your seats to this movie today!