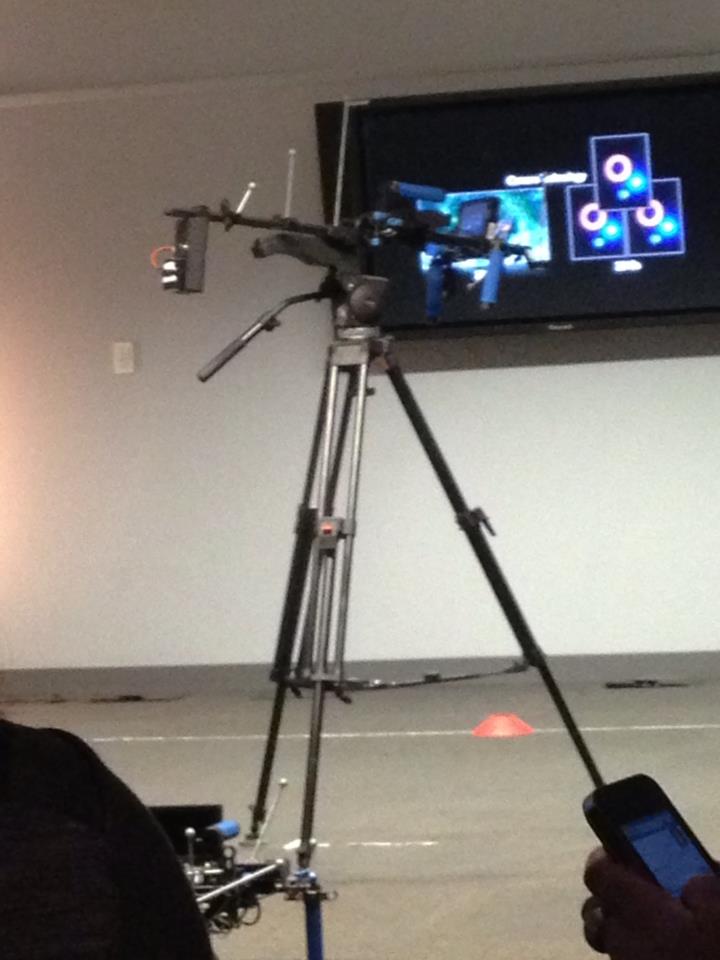 Here is a FUN video of me working the Motion Capture Camera during my Blogger Press Day at Disney Animation Studios for the Oscar Nominated film, Wreck-It Ralph! This Thursday, I was honored to have been selected to visit Animation Studios in Burbank, CA to learn about how Wreck-It Ralph and movies are created!  Evan Goldberg's team taught the mommy bloggers how to use the camera and let us play with this high-tech expensive equipment!
I never realized that when creating animations that an actual video camera is used. I assumed everything was done on the computer. Well not everyone can run all of the high-tech software programs involved. So a director, animator, or someone from the animation crew will actually stand behind this high-tech camera with sensors on it (and sensors around the room) to move and shake and turn the camera to where they want it to focus. The animations are 3-D so as the camera moves the perspectives of the animations change! Watch me move it and groove it on the video below!
Be sure to check out the TV in the background. As I move the camera you can notice the angle of the camera in Wreck-It Ralph changing too. Isn't this totally cool?!
Wreck-It Ralph has to be one of my favorite Disney Animated films! It is up for an Oscar too!
During this day at Animation Studios, I experienced stuff I have NEVER experienced before in the making of Wreck-It Ralph! If you haven't seen this movie, YOU WANT TO! It was amazing! It is already available for download if you buy it online!
The DVD will be released soon! Be ready for me to post detailed events of my ENTIRE day and a Blu-Ray/DVD Combo Pack Movie Review!–> Coming soon! (I haven't reviewed the Blu-Ray/DVD, but here is my Wreck-It Ralph movie review.)
Be sure to catch the Hero's Duty clip from Wreck-It Ralph below and notice the slight movement of the camera.
Available on HD Digital now and Blu-ray Combo Pack March 5th!  (Available for download now.)
Disclaimer: I was sent on this all media trip and travel expenses were all sponsored by Disney.  All opinions are my own based on my experience.