I am part of a Verizon ambassadorship called "VZWBuzz" and am provided with tech devices and service. This story is completely my own but wouldn't have came to mind if I wasn't always digging into technology with this exclusive group of awesome folks!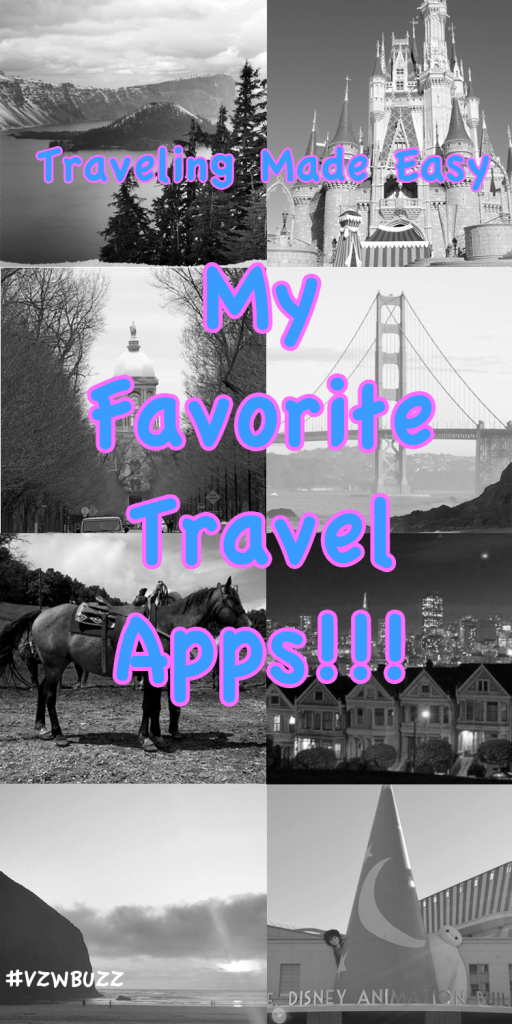 All you need to fly now is your smart phone! How can your smart phone help with your traveling? It is crazy how much you can do on your phone just by traveling with it! I can't remember last time I printed a boarding pass from my home printer before flying. I also don't remember last time I worried about having hotel internet or even internet at airports.   If you are utilizing your smart phone during travel, you might worry about battery drainage because you are going to have your GPS, internet, and notifications on like crazy.  Be sure to keep an external charger with you for piece of mind.  I included the best traveling apps and also tips about relying on your smart phone for travel!
7 of the BEST Traveling Apps You Didn't Know Existed
Hot Spot: Stop worry about finding a place with free internet, getting around firewalls, and other crazy slow speed and overly busy networks. Find out how to turn your hot spot on your phone and connect your computer and other devices to your Hot Spot. There is no-way I am going to spend $20/day at the hotel to get internet and pray that it runs fast enough that I don't want to get frustrated and feel the need to toss all my electronics out the window.
Track Your Bags: While sitting on a US Air flight headed to New York for the press junket of the movie Suffragette, I was looking through their online magazine. HOW brilliant is this?! Did you know you can track your checked in bag numbers from your phone? Are you wondering if your bag made it to your next city? If so, you can check! I almost always do anything and everything possible to ONLY have a carryon with the fear of traveling during my short trip and losing my bag. NOW, I know I have a tiny bit of control with the ability to track it!
Boarding Pass: I am not sure if there is anyone in the world who knows that your boarding pass can go straight to your phone now. No more hustling through receipts, papers, and bag pockets to remember where in the world you stuck that paper boarding pass…just show the TSA your phone and ID and you are ready to move forward. CHECKING in your flight is also really easy. I remember years ago having to make sure my hotel had a business office with internet, computers, and printers just to be able to check-in my flight prior to taking off.
Find Your Gate: Which airline are you flying? Almost all of them have a super duper handy app that tracks your flight and lets you know which gate your flight will be departing and landing. Those huge TVs at the airport are kind of like from the Stone Age, right? Who uses those things anyways? Fred Flinstone.
Grab Your Ride: Lyft, Uber, Gett…whatever other car services are out there have totally helped with getting from one place to another, knowing the estimated price, and tracking via GPS where you can also pay and tip straight from your phone without having to pull out your credit card. Plus, if traveling for work, those receipts are mailed right to you in order to expense or be reimbursed! Can someone scream BRILLIANT?!
Trip Log: Do you track your miles from one location to another? Do you get reimbursed for your miles. Handy apps, like Trip Log make it easy to mark the start, end, and mileage numbers of all of your trips. It keeps a log where you can easily put in notes and save that information for the future!
GPS: No, Mr. Taxi Cab Man, you can't drive around the big city blocks 10 times in the wrong direction to bump up the rate of my ride! I know now the best route, location, and traffic reports by looking down at my GPS app, and if you try to pull one over on me…I KNOW! I am in control now! I am also hungry, let me just grab my phone to find the closest restaurant and their ratings. BOOM!
TIPS if Using Your Smart Phone When Traveling
Always carry a back up charger or battery.
Turn off all your social media and game notifications because they might suck your battery life and you definitely don't want to risk that.
Keep your cell phone in a handy case that you can even possibly wear for easy access.
What are some your BEST and FAVORITE traveling apps? I know there are a g'zillion out there, but I had to share mine because I found them the most convenient. Who knows, if I keep on getting layovers my list might change to Candy Crush, Bejeweled Blitz, and Angry Birds!