Are you a dog lover? Want to learn all about Shelby who plays Bella in W. Bruce Cameron's new movie, "A Dog's Way Home"? I just recently sat down with W. Bruce Cameron and Cathryn Michon for a one on one interview. We talked about Shelby, the movie, and the new initiative to get veterans therapy dogs.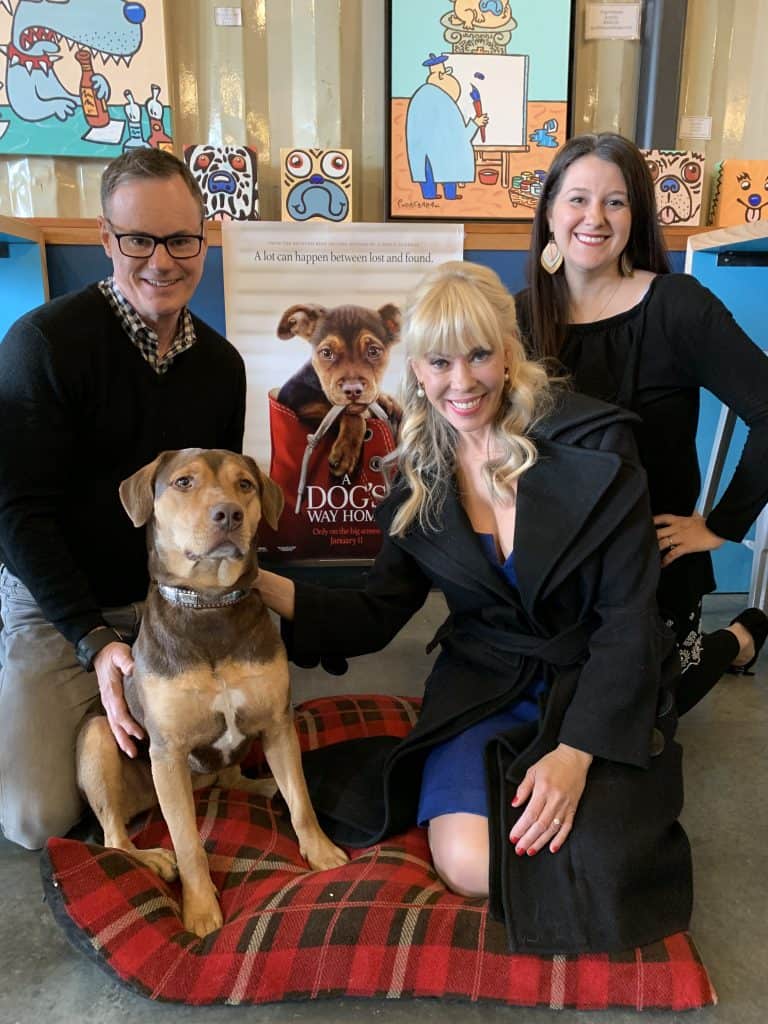 From junkyard to movie star….a dog's version of Pretty Woman.
Shelby is a junkyard rescue dog from Tennessee. Just like the book, she is a mixed breed dog who looks like she could possibly have pit bull in her blood. Bruce and Cathryn shared about how they went on a national wide mission to try to find the perfect dog to play Bella.
Bruce shared, "She started off living in Tennessee outsides of a landfill in Nashville. She was picked up by Animal Control. We wanted to find a dog that looks like the original cover from the original book "A Dog's Way Home". We wanted to find a dog that looked like it could have pit bull in it. It's a huge part of the plot point…We wanted to also find a dog that looked good on camera and that also had the temperament."
Cathryn shared a bit of what she means about temperament. The dog must, "Be Intelligent, Be motivated, and a dog you could train."
They actually talked to Animal Control, and Animal Control shared that they believe that they had found the perfect dog and wanted them to evaluate the dog.
"From the very moment we met her, she is loving, she is so warm, she has got that expression," Cathryn shared a story about how earlier that day, Shelby had seen a squirrel. And when she had asked Shelby, "do you see a squirrel" it was the reaction that a true Bella would make. Cathryn shared, "Shelby's eyes got really big and that is what you want is a dog that has that expression."
Shelby has now gone from a rescue dog, to a movie star, and now she helps out veterans just like in the movie as a therapy dog. When meeting Shelby she is so sweet, so cute, and has the cutest personality. The interview took place at Bar K in Kansas City where the bar connects to its own dog park where Bella had a blast running around and playing the entire time.
You can actually get a W. Bruce Cameron book about Shelby's Story! We purchased one at the special Red Carpet screening in Kansas City, where the proceeds went to help different animal organizations.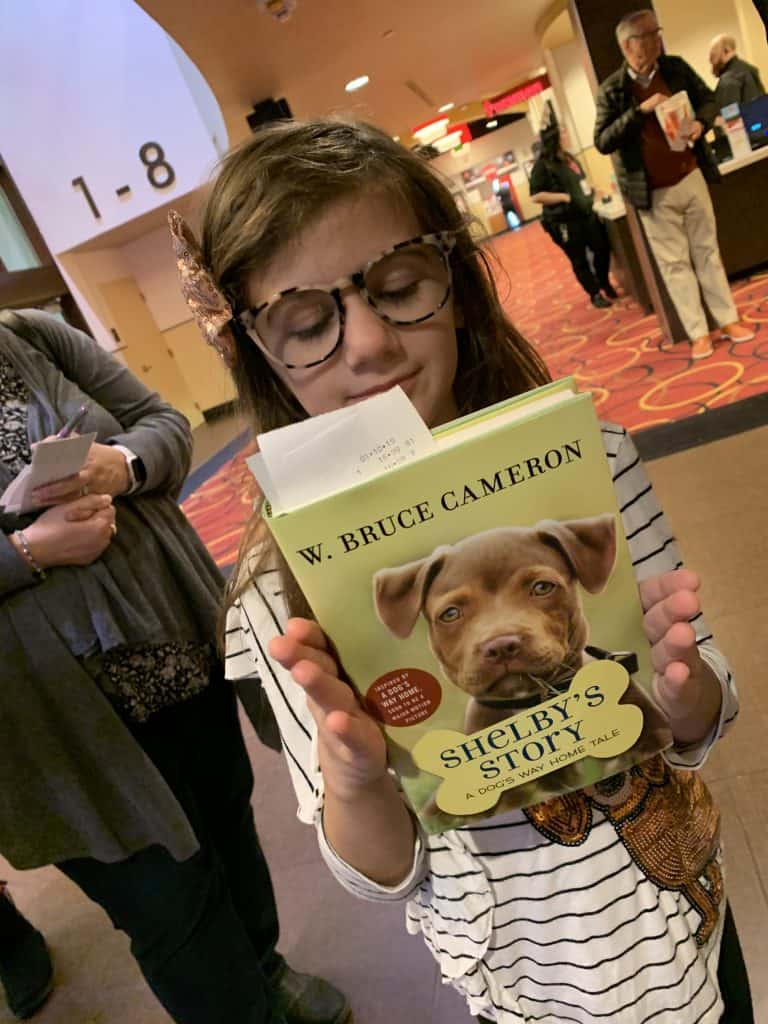 Making a difference.
For Christmas my daughter asked for three things. She wanted the new W. Bruce Cameron book, "Dogs of Christmas", a bank to save up money to help dogs who are in animal shelters, and an iTunes gift card. W. Bruce Cameron has been in many homes for a lot of years. His stories are stories that everyone can relate to, stories that will make you laugh, and stories that will make you cry. Most importantly there's definitely stories for the entire family.
I asked Bruce and Cameron to share a bit about their new initiative Operation Hero-Animal Bond.
• Through Operation Hero-Animal Bond, shelters and rescues will be connected with their local veterans hospitals/clinics and their veteran community to adopt out pets to veterans looking to adopt.

• The program will cover the adoption fees and provide an adoption kit which will include important new pet parent needs; things like preventatives, pet food, a leash and collar, toys and more for veterans adopting through Operation Hero-Animal Bond
• The VA and the HSUS both agree on the immense value of the human-animal bond to help veterans heal and thrive.

• The program will launch with partners in the DC metro area in January 2019 and expand as interest and funding allow.

• For more information visit http://heroanimalbond.org
Now my daughter has a new list of dog charities for her giving heart! She also not only got to see the movie with me, but she was able to meet Shelby, W. Bruce Cameron, and is gorgeous wife, Cathryn Michon! This girl slept with her signed book and took it to school with her to show her teacher and her friends.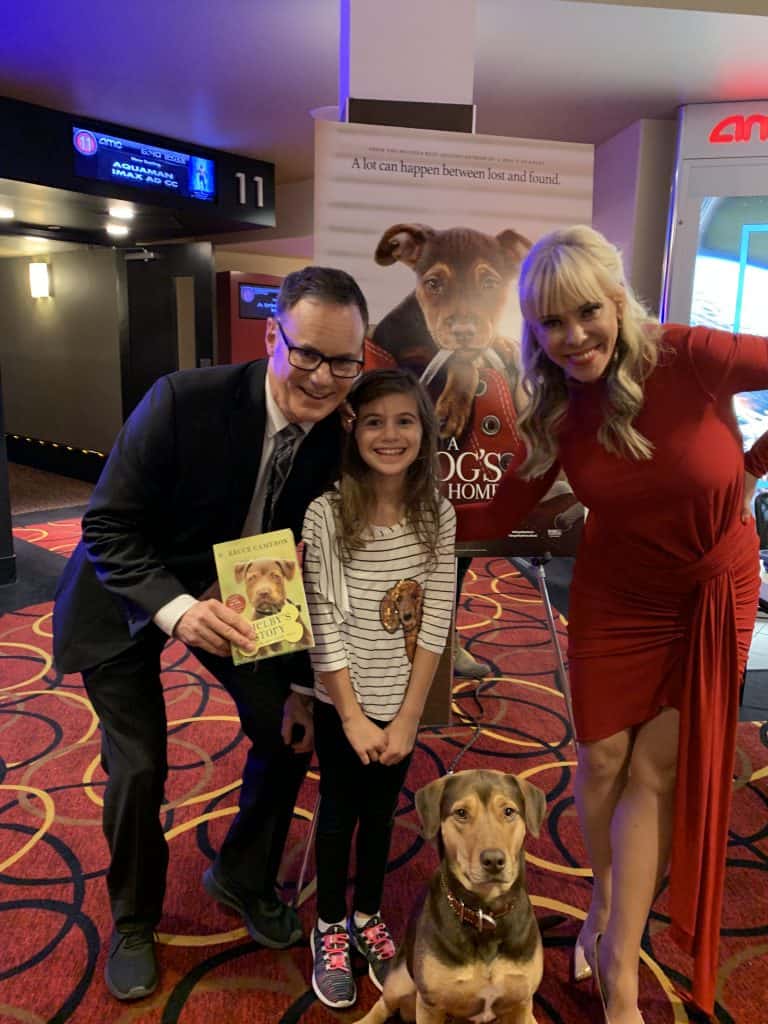 About the movie, "A Dog's Way Home".
"A Dog's Way Home" is now playing in theaters! It is about a dog who gets separated from her owner and finds a way back home.
There is a scene in the trailer where the dog rescues someone from an avalanche. I had to ask how that scene was done. What I learned is that they trained Shelby to dig for treats on a cue of a buzzer. What happened when they were actually filming the movie is definitely a fun story that Bruce had shared.
It was just a sunny day and they were on the side of Whistler Mountain. While Cathryn wanted to make sure I understood that, "Everything is fake and digitized" in the snowy scene, Bruce shared how the acting and elements of Shelby is real. Bruce shared how they had to capture the shot that day. The shot was Shelby digging in the Avalanche. The way they trained her was to dig when she heard a buzzer that was buried alongside of a treat. They buried the wrong buzzer so she kept running off because she can hear the buzzer across the area where the real buzzer was going off. So Shelby was doing the right thing while the humans made a mistake. I guess that only Shelby was the one that could hear the buzzer.
The biggest movie takeaway.
Cathryn shared her biggest takeaway, "I want the audience to know while going into the movie that this is a FAMILY movie and please come support this movie because Hollywood listens to who sees the movie opening weekend. If you want Hollywood to continue to make this movie please come and support it. Come see A Dog's Way Home."
Bruce, shared that we have a responsibility as a species to take care of these dogs. At no fault of their own they don't know how to respond to the wild since we have taken them out of the wild. We need to take them in as ours.
Shelby shared, "Woof"! 😉
Go and see "A Dog's Way Home" today!