I had so much fun attending the premiere and interviewing the director (James Bobin), producer (Suzanne Todd), and lead actress (Mia Wasikowska). I had the opportunity to screen the movie twice. It was just as great the second time around. There are tons of great lessons to be learned in the movie. With that comes some amazing quotes! I could have seriously almost quoted the entire movie! Check out my favorite Alice Through The Looking Glass quotes below!
Alice Through The Looking Glass Quotes

"Surrendering my father's ship will not guarantee survival." – Alice Kingsleigh
[Discussing Impossible] "You know my views of that word." – Alice Kingsleigh
"The only way to achieve the impossible is to believe it is possible." – Alice Kingsleigh
(This impossible quote happened at the very beginning of the movie on the ship.)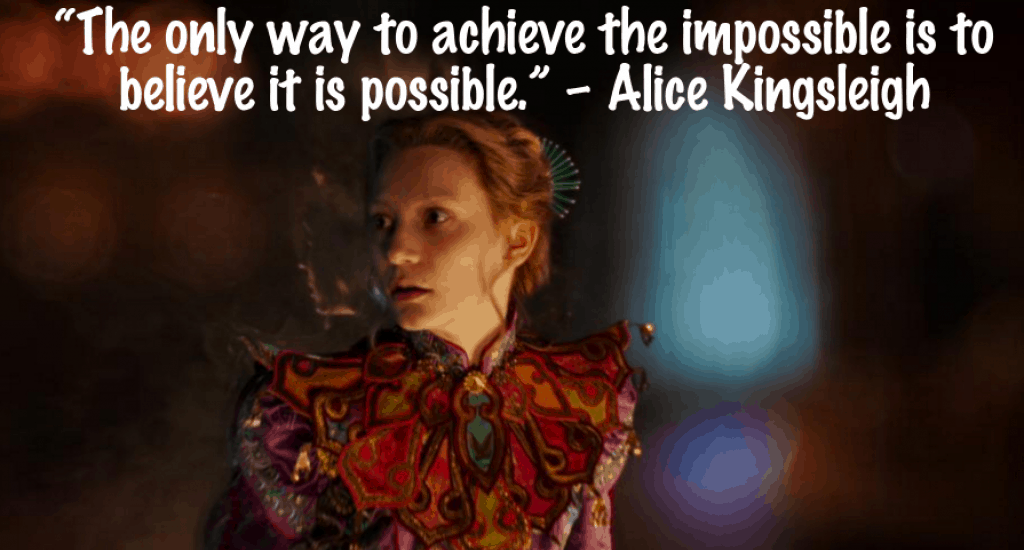 "Were you ever afraid?" –Alice's Mom
"Of course, but I would just think of father." –Alice Kingsleigh
"Time is a thief and a villain." Alice Kingsleigh
"How was it?" –Hamish's wife
"The world? It was quite wonderful. You should visit it." –Alice Kingsleigh
"A sea captain is not a job for a lady." – Alice' Mom
"The last thing I want is to end up like you." –Alice Kingsleigh (to mom)
"Sign over the Wonder and give up the impossible." –Alice's Mom
"To make him better, I must bring his family back." –Alice Kingsleigh (about Mad Hatter)
"You must travel back in time and save his family." –White Queen
"Everyone parts with everything eventually, my dear." –Time

"Thank you for the you." –Alice Kingsleigh to Time
"You might not change the past, but you might learn something from it." –Time

"I used to think time was a thief. But you give before you take. Time is a gift. Every minute. Every second." –Alice Kingsleigh

"Time is a friend to no man, but I remember you always. But please do not come back." –Time
"A very important thing about family is that you only have one." –Mad Hatter
[When Alice and Mad Hatter will see each other again.]
"In the gardens of memory. In the palace of dreams. That is where you and I will meet."
-Hatter
"But a dream is not reality."
-Alice
"Who's to say which is which?"
-Hatter

"Time is many things, but he is not money and he is not our enemy." — Alice Kingsleigh
Alice Through the Looking Glass is NOW playing in theaters! Get your tickets TODAY!
In Disney's "Alice Through the Looking Glass," an all-new spectacular adventure featuring the unforgettable characters from Lewis Carroll's beloved stories, Alice returns to the whimsical world of Underland to save her friend the Mad Hatter. Directed by James Bobin, who brings a unique vision to the spectacular world Tim Burton created on screen in "Alice in Wonderland," the film is written by Linda Woolverton based on characters created by Lewis Carroll and produced by Joe Roth, Suzanne Todd and Jennifer Todd and Tim Burton with John G. Scotti serving as executive producer. "Alice Through the Looking Glass" reunites the all-star cast from the worldwide blockbuster phenomenon, including: Johnny Depp, Anne Hathaway, Mia Wasikowska, Matt Lucas and Helena Bonham Carter along with the voices of Alan Rickman, Stephen Fry, Michael Sheen and Timothy Spall. We are also introduced to several new characters: Zanik Hightopp (Rhys Ifans), the Mad Hatter's father and Time himself (Sacha Baron Cohen), a peculiar creature who is part human, part clock.

Alice Kingsleigh (Wasikowska) has spent the past three years sailing the high seas. Upon her return to London, she comes across a magical looking glass and returns to the fantastical realm of Underland. Reuniting with her friends the White Rabbit, Absolem, the White Queen and the Cheshire Cat, Alice must save the Hatter and Underland itself, before time runs out. Presented in Digital 3D™, Real D 3D and IMAX® 3D, Disney's "Alice Through the Looking Glass" opens in U.S. theaters on May 27, 2016.
Which Alice Through the Looking Glass quotes would you add that I left off my list?
Unique Through the Looking Glass Gifts on SALE!