I don't want to make Thanos mad, so be sure you are only stumbling this post if you have seen Avengers: Endgame. We sent Myla Tosatto to review the movie and also share all of the best Avengers: Endgame Quotes with all of you.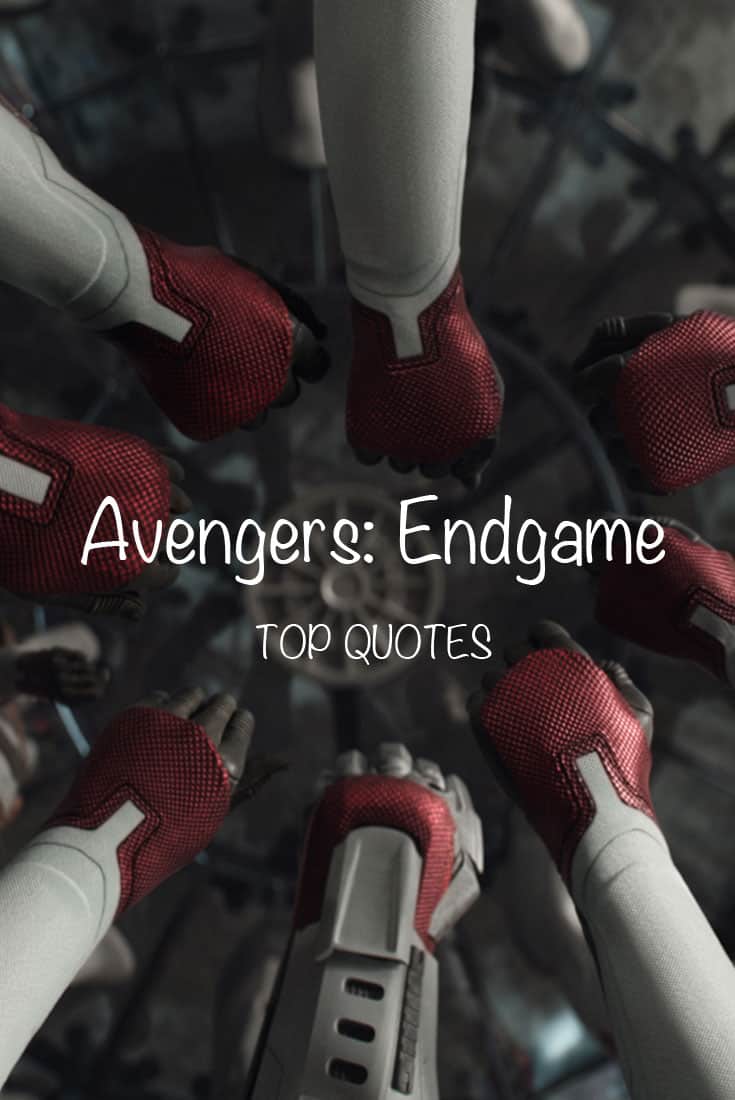 Do you have a favorite line of the movie? Do you have a favorite part of the movie? Please be sure to share below!
Avengers: Endgame is also now playing in theaters!
*SPOILERS ENSUE- STEP AWAY FROM THIS SCREEN IF YOU HAVEN'T SEEN THE MOVIE YET!!*
Avengers: Endgame Quotes
"Good job, Hawkeye."- Hawkeye (Jeremy Renner) to his daughter
"You don't need to do that."- Tony Stark (Robert Downey Jr.) to Nebula (Karen Gillan)
"Fair game, good sport."- Tony to Nebula
"Hey, Miss Potts. . ."- Tony
"I couldn't stop him. "- Tony
"Neither could I."- Captain America (Chris Evans)
"I lost the kid."- Tony speaking about Peter Parker (Tom Holland)
"He did exactly what he said he was going to do."- Black Widow (Scarlett Johansson) about Thanos
"At this exact second I thought you were a Build-A-Bear."- Tony to Rocket (Bradley Cooper)
"Tony, I'm going to need you to focus."- Cap
"Guess what, Cap? We lost. And you weren't there."- Tony
"We're the Avengers. Not the Prevengers."- Tony to Cap
"Where are you going?"- Cap
"To kill Thanos."- Tony
"That's cute. Thanos has a retirement plan."- James Rhodes (Don Cheadle)
"Before- you didn't have me."- Captain Marvel (Brie Larson) on why the Avengers would prevail
"I like this one."- Thor (Chris Hemsworth) about Captain Marvel
"Okay. Who here's not been to space? You better not throw up in my ship."- Rocket
"This is going to work, Steve."- Black Widow
"It's just him."- Captain Marvel about Thanos
"And that's enough."- Nebula
"Oh no."- Rocket
"The universe required correction."- Thanos (Josh Brolin)
"I used the stones to destroy the stones."- Thanos
"I am inevitable."- Thanos
"What did you do?"- Rocket
"I went for the head."- Thor
"You gotta move on."- Cap
"You're so big."- Scott Lang (Paul Rudd) to his daughter, Cassie
"And now we smell like garbage."- Rocket
"We handle it by not handling it."- Okoye (Danai Gurira)
"I'd offer to cook you dinner but you seem pretty miserable already."- Cap to Black Widow
"I'm about to hit you in the head with a peanut butter sandwich."- Black Widow to Cap
"I think we both need to get a life."- Cap
"You first."- Black Widow
"Ant Man. I know you know that."- Scott
"Then Thanos happened and I got stuck in there."- Scott
"Is that anybody's sandwich?"- Scott
"Scott, I get emails from a raccoon so nothing sounds crazy anymore."- Black Widow
"You accidently survived."- Tony to Scott
"Sometimes I miss that giddy optimism."- Tony to Cap
"Tony, we have to take a stand."- Black Widow
"I'm so confused."- Scott
"These are confusing times."- Bruce Banner/The Hulk (Mark Ruffalo)
"Say green!"- Bruce taking a selfie
"What's new in composting?"- Tony to Pepper (Gwyneth Paltrow)
"That's amazing and terrifying."- Pepper
"We got really lucky. A lot of people didn't."- Pepper to Tony
"Scott, fire up the van thing."- Bruce
"Perfectly not confusing."- Scott
"Somebody peed in my pants."- Scott
"Why the long face? Let me guess. He turned into a baby."- Tony to Cap
"Time Travel!"- Bruce
"Thank God I'm here."- Tony to Cap
"Where's Big Green?"- Rocket
"What's up, Regular Sized Man?"- Rhodes to Scott
Oh, Valkyrie. It's good to see you, angry girl."- Bruce
"Hello, Thor?"- Rocket
"Are you here about the cable?"- Thor
"Feel free to log in to the wifi."- Korg (Taika Waititi) to Bruce
"Buddy, are you alright?"- Bruce to Thor
"You look like melted ice cream."- Rocket to Thor
"Please take your hand off me."- Bruce to Thor
"We're good here, mate."- Korg
"There's beer in the ship."- Rocket
"What kind?"- Thor
"They got Thanos. You got me."- Hawkeye
"What I want, you can't give me."- Hawkeye
"You shouldn't be here."- Hawkeye
"Neither should you."- Black Widow
"We found something. A chance, maybe."- Black Widow to Hawkeye
"Don't give me hope."- Hawkeye
"I'm sorry I couldn't give it to you sooner."- Black Widow
"Ratchett, how's it going?"- Tony to Rocket
"I'm being very careful."- Bruce
"No, you're being very Hulky."- Scott
"First of all, that's horrible."- Bruce
"It's Thanos."- Rhodes
"Die Hard? No, that's not one."- Scott
"So Back to the Future is a bunch of bulls@*&?"- Scott
"Thor, what do you know?"- Cap
"Jane is an old flame of mine."- Thor
"I'd like a bloody mary."- Thor
"Oh look, it's a little puppy."- Rocket to Scott
"Not it."- Scott
"What kind of Doctor was he?"- Black Widow about Dr. Strange (Benedict Cumberbatch)
"Shut the front door."- Bruce
"Okay, we have a plan: 6 stones, 3 teams, 1 shot."- Cap
"Be careful. Look out for each other."- Cap to the Avengers
"He's pretty good at that."- Rocket
"Right?"- Scott
"See you in a minute."- Black Widow
"Maybe smash a few things along the way."- Cap to Bruce
"I'd be careful going that way. We just had the floors waxed."- The Ancient One (Tilda Swinton)
"Here's the deal, Tubby."- Rocket to Thor
"Who's the fancy broad?"- Rocket
"My mother. She dies today."- Thor
"There are plenty of people who are kind of gone."- Rocket to Thor
"Long way from Budapest."- Hawkeye to Black Widow
"Where are you right now?"- Rhodes to Nebula
"I swear I'll make you proud."- Nebula to Thanos
"As far as I'm concerned, that's America's a@@."- Scott to Cap
"Flick me."- Scott to Tony
"Trust me. Hail Hydra."- Cap
"Is that Axe Body Spray?"- Scott to Tony
"Loki will be answering to Odin himself."- Thor
"Where's Loki?"- Thor
"I have eyes on Loki."- Cap
"I can do this all day."- Cap
"Bucky is alive."- Cap
"Strange is meant to be the best of us."- The Ancient One
"I'm counting on you, Bruce."- The Ancient One
"What's wrong with your eye?"-Frigga (Rene Russo) to Thor
"I was just standing there, an idiot with an axe."- Thor
"You must be Mom."- Rocket to Frigga
"I'm still worthy."- Thor
"Come and get your love."- Quill (Chris Pratt) singing
"So, he's an idiot?"- Rhodes
"Yea."- Nebula
"We work with whatever we got."- Rhodes to Nebula
"I found them all. I won."- Thanos
"You're repeating yourself. You're repeating yourself."- Scott to Tony
"I have a vaguely exact idea."- Tony
"Thanks for the pep talk, Pissant."- Tony to Scott
"You trust me?"- Tony
"I do."- Cap
"Back in the game."- Tony
"Door's this way, Pal."- Howard Stark (John Slattery) to Tony
"Do I know you?"-Howard to Tony
"Flowers and sauerkraut. Got a big date tonight?"- Tony to Howard
"No amount of money bought a second of time."- Tony to Howard
"You can stop this."- Nebula
"You disgust me, but that doesn't mean you're useless."- Nebula
"Under different circumstances this would be totally awesome."- Hawkeye to Black Widow
"What you seek lies in front of you."- Red Skull (Ross Marquand)
"Whatever it takes."- Black Widow
"Whatever it takes."- Hawkeye
"Don't you get all decent on me now."- Hawkeye to Black Widow
"You're an earth being and we're talking about space magic."- Thor to Hawkeye
"Boom!"- Rocket
"I'm the strongest Avenger."- Thor
"It's like I was made for this."- Bruce
"Everybody come home."- Bruce
"Lose this again, and I'm keeping it."- Tony to Cap about his shield
"What's he been doing?"- Tony
"Absolutely nothing."- Thor
"Is that everyone?"- Doctor Strange
"Let's kill him properly this time."- Thor to Tony and Cap
"Avengers! Assemble."- Cap