If you haven't read my movie review for Angry Birds you will want to! I had to create a list of my favorite Angry Birds Movie Quotes to share with all of you! Red has some awesome quotes and so do many other characters!  Be sure you go to the theater to check out this movie! Take your entire family because it is totally worth it!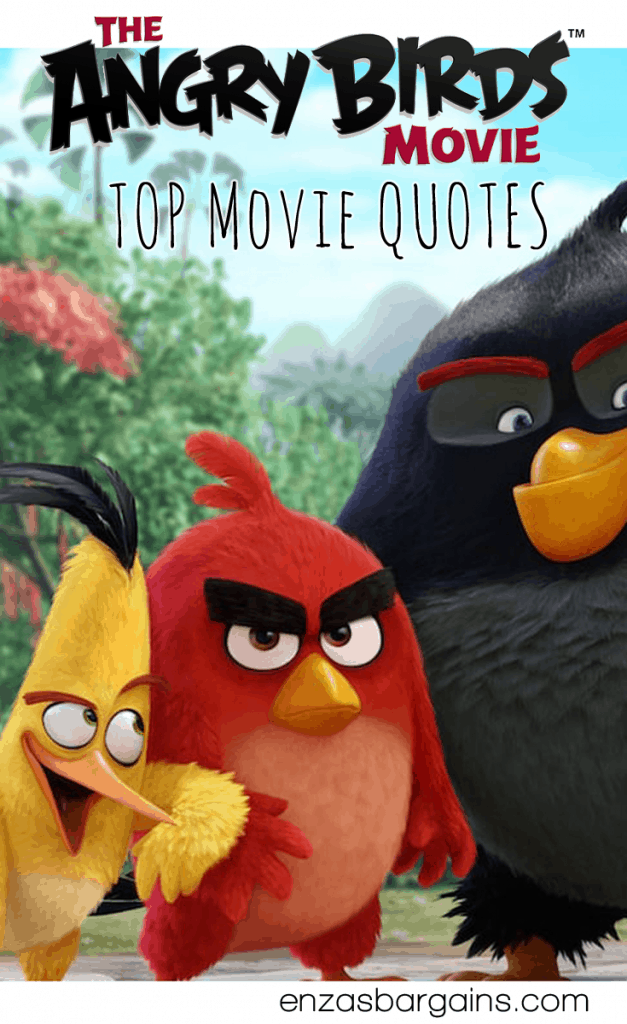 Angry Birds Movie Quotes
"I am flying. I still can't fly." – Red
"He fell on his hatch Day cake!" –Turquoise Bird
"What the heck is gluten?….Who needs cake when you got this face." –Red
"Congratulations! It's a boy!" –Red (Baby calls Red "Daddy" through the movie.)
"Am I a compassionate bird? YES!" –Red
"Why would birds fly? Where else would we want to go?" –Judge
"Mr. Red, When you moved your home outside the village, did you realize nobody else joined you?" –Judge
"Pluck my life!" –Red
"Oh look at this. This is going to be awful." –Red
"You are here until I notify the courts that your anger management is complete."—Matilda
"Sometimes when I get upset, I blow up like a bomb." –Bomb
"Ahhhh, do it!" –Chuck
"I am having back issues and can't do it today." –Bomb
"I got a thing?" —Red
"Is it a disease? Bird flu?…" –Yellow
"I love. I hate. I do so much more than detonate." –Bomb
"I was GOING to do it. Then I realized it was a total waste of time." –Red
"Oh it is such a shame when you create something and someone destroys it." – Chuck
"That part about them I really admire." –Yellow (about the pigs being naked)
"Shut up and fix my house!" –Red
"We don't know him" –Yellow
"Who said birds don't fly?" –Leonard (slingshots Red)
"Hi Chuck's mom. Can Chuck come out and play?" –Red (to Chuck)
"All of this doesn't come naturally." –Chuck
"If anyone knows what these pigs are up to, it is Mighty Eagle!" –Red
"I need your help." –Red
"I couldn't really hear you over your ego." –Chuck
"The lake of wisdom!" –Chuck
(Bomb and Chuck drink out of it.)
"Be honest do I sound any wiser!?" –Bomb
"Not so much the lake of wisdom, but the lake of wiz." –Red
"You are lost souls seeking wisdom." –Mighty Eagle
"Can we have some?" –Chuck
"Prepare to have your minds blown!" –Mighty Eagle
"This is way nicer than my wall of wimpiness." –Chuck
"It is very upsetting to me that you are the only bird who can fly and you're too afraid to do it." –Red
"Mr. Red, what do we do now?" –Judge
"They made a snout staircase. Who things of that?" –Leonard
"Drop your nuts and move your butts." –Red
"Anyone else have butterflies in your stomach?" –Bomb
"Probably because you ate too much catepillars." –Red
"Hey that blows in a good way!" –Red.
"I am not going to lie to you, but I am really going to miss you when you die." –Chuck
"I had to have you lose faith in me, so you can have faith in yourself." –Mighty Eagle
"That's not really what happened."—Red
"Look he is blushing." –Chuck
"I am not really blushing, I am red." –Red
"How did you find the time to put this off?..Is this why we got pedicures?" –Red
About Angry Birds Movie
Flightless birds lead a mostly happy existence, except for Red (Jason Sudeikis), who just can't get past the daily annoyances of life. His temperament leads him to anger management class, where he meets fellow misfits Chuck (Josh Gad) and Bomb. Red becomes even more agitated when his feathered brethren welcome green pigs to their island paradise. As the swine begin to get under his skin, Red joins forces with Chuck and Bomb to investigate the real reason behind their mysterious arrival.
Be sure to check out Angry Birds Movie in theaters everywhere on May 20, 2016!  Get your tickets here now from Fandango.com!
Be sure to check back on Thursday for my official movie review & favorite movie quotes!