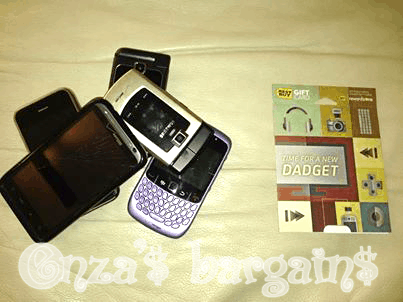 Read about how I made $20 on just one phone!  NOW, I have several other phones I want to do the same thing with!  Thank you Best Buy!!
My husband and I have a disgusting collection of old cell phones that we hadn't had a chance to sell, donate, or recycle yet. We have been doing what we can to save up for a new video game system since my husband and I both like playing games! When we found out that we can trade in our old cell phones for Best Buy Gift Certificates we were very excited! We had no clue that they do this every day whenever you want! At first I thought that we could buy some new phone accessories. I have the new Blackberry Z10 and he has the new Samsung Galaxy 4. We also both have iPhones. After some short discussion with my husband we thought this would be motivation to set money aside for the new Play Station coming out before Christmas. It is something that is not part of our budget that we both want.
I sent my husband to be the first one to trade in his phone! I didn't realize that you could get up to $200* back at Best Buy Mobile Specialty Stores. Find the nearest store closest to you.
This is a great service if you are needing to get a mobile phone but you are dreading the experience for shopping for one. Check out these Best Buy Mobile Specialty stores in shopping centers and all around. You can purchase through Verizon, AT&T, and Spring. They also have tons of accessories! If you are looking for one of their specialty stores you can visit www.BestBuyMobile.com.
You can also find Best Buy Mobile stores in actual Best Buys!
So feel free to do like we did and take those old phones out of the junk drawer or whatever other corner of the house you have it shoved in for now. Trade it in and get some money toward something you really want. We were able to get $20 for my husband's phone that would have been sitting in our junk drawer and later I am going to go through and make sure we don't have any others hanging around.