BlacKkKlansman Review
Myla Tosatto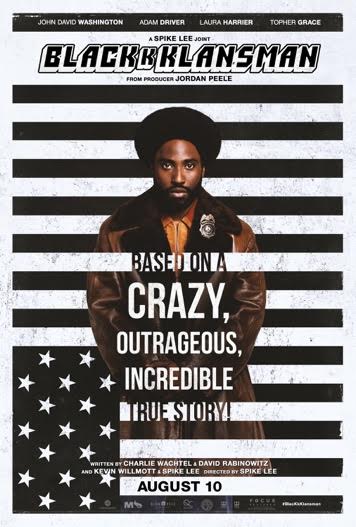 It's no surprise that Spike Lee won the Grand Prix at the Cannes Film Festival. It's also no surprise that he received a six-minute standing ovation for BlacKkKlansman after the showing. It is that good. Spike Lee is back and he isn't pulling any punches. He uses BlacKkKlansman to point out things that were wrong in the 1970's and things that are wrong now. From using clips of Gone with the Wind and Birth of a Nation to current news reels and press conferences, BlacKkKlansman doesn't shy away from discussing race.


BlacKkKlansman tells the real life story of Ron Stallworth (John David Washington) who joins the Colorado Springs Police Department and infiltrates the Klu Klux Klan. The interesting thing about that is that Stallworth is black. His public face is Flip Zimmerman (Adam Driver) who pretends to be Stallworth at Klan meetings and events. Stallworth even gets the opportunity to meet the man behind the white hood himself, David Duke (Topher Grace).
Spike Lee will never be accused of being subtle. But when he is calling out racism and injustice, should he be? The movie is not rated at the time of this writing. I am thinking mature middle schoolers will be able to handle it. Your history buffs and social warriors will love it. It is 2 hours and 15 minutes long, but it moves at a brisk pace.
I'm glad to see Spike Lee back. If you loved him from his Do the Right Thing days, you are going to love this.
Did I mention that Harry Belafonte is in it? HARRY BELAFONTE IS IN IT!!!
BlacKkKlansman is NOW playing in theaters! Get your tickets today using Fandango.com!
Story: From visionary filmmaker Spike Lee comes the incredible true story of an American hero. It's the early 1970s, and Ron Stallworth (John David Washington) is the first African-American detective to serve in the Colorado Springs Police Department. Determined to make a name for himself, Stallworth bravely sets out on a dangerous mission: infiltrate and expose the Ku Klux Klan. The young detective soon recruits a more seasoned colleague, Flip Zimmerman (Adam Driver), into the undercover investigation of a lifetime. Together, they team up to take down the extremist hate group as the organization aims to sanitize its violent rhetoric to appeal to the mainstream. Produced by the team behind the Academy-Award® winning Get Out.

Director: Spike Lee

Cast: John David Washington, Adam Driver, Laura Harrier and Topher Grace